Bars with Arcade games is an exciting new entertainment concept designed to encourage social gaming.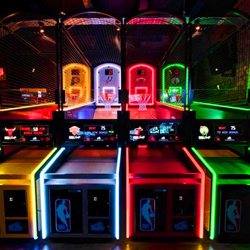 This new trend brings a lively new atmosphere to traditional bars. Visitors now have new activities they can participate in with their friends that are fun and exciting. The range of equipment that can be added is only limited by the venue size and typical activities include Video Games, Sports Games, Table Tennis, Shuffleboard, traditional Pool and even Bowling.
Here at SEGA we have been working with operators for years and have seen this trend turn mainstream in the USA and soon in Europe. Our high-end IP based products such as Daytona Championship USA, House of the Dead, Transformers Shadow Rising, NBA branded Basketball, Super Kixx and a new generation of air hockey tables Air FX deliver the type of experience visitors expect at a Bar with an arcade.
We go the extra mile by offering custom branding on a range of products. Allowing you, the operator, to deliver a unique experience to your customers. Our experience has shown that custom branding games increase spending and stronger brand loyalty.
Here is what Rob Ashcroft from Mikhail Group owners of ArCains Liverpool had to say about our involvement.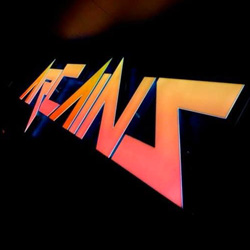 "December 2019 marked the opening of ArCains Liverpool. This was Mikhail Group's first venture which incorporated gaming in an almost nightclub setting. SEGA is no doubt a giant of the arcade world, so contact was made early in the development and planning stages of the venue.
There was always going to be logistical challenges setting up the venue due to the vast refurbishment of a listed building dating back to 1902. The building was not designed for an arcade. We had already identified what we wanted from SEGA in terms of machines and what they didn't have they sourced and made available within the timescale needed.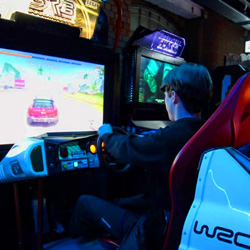 The day the SEGA installation team arrived I briefed them and what I expected and where. I think it's fair to say they knew it was going to be a challenge, but the SEGA team delivered and went above and beyond to ensure my expectations were met. Right from identifying and sourcing what we wanted, to delivering and installing SEGA did a great job. They worked with us and helped overcome the challenges of setting up such a huge operation in a strict timescale.
Since opening, I have been in regular contact with Darrell Webb at SEGA who knows when the time comes to introduce new machines to ArCains in Liverpool or new locations Sega will be involved"
Looking to start or upgrade your Bar with Arcade games? Give us a call, our experience can help you navigate common pitfalls.