If you are looking for amazing arcade games for your Family Entertainment Centre FEC, you are at the right place. Whether you are a seasoned operator or a budding entrepreneur here at SEGA we understand what you need when it comes to games – its what we do. With over 60 years in the industry, you can say we were here pioneering the FEC and arcade world - bringing world class entertainment to families and friends across the globe.
As a Family Entertainment Centre operator, we understand that you are looking for games that will entertain all your guests, generate revenue, as well as attract new visitors into your location. You are looking for games that will energise and excite the players leaving them with lots of happy memories. And as their visit ends get them planning their next visit. Our research and development team works hard to develop games that create positive emotions and repeat visits.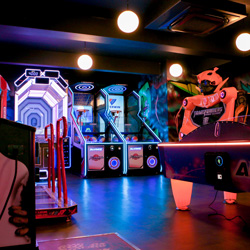 A good mix of games is a vital part of a great FEC operation, and so you can find games in all major categories right here with us. From Video, Redemption, Prize, major attraction, hugely popular global licenced games, and the list does not end there. Click here to view the full range. Based on your location size, player demographics, and meeting local needs we can advise you on the best product mix. For instance, we may recommend you must have a good selection of basketball games for young and old as we may have learned basketball is a popular sport in your town and has a major team in the region. This kind advice with attention to detail will help you maximise your revenue potential.
Trust is an integral part of the way we work here at SEGA. You can trust that our games will perform well at your location and when things go wrong, you can trust that our after-sales support team will work to get your game up and running as soon as possible. Our trained technical staff offer over the phone troubleshooting so we can identify the problem immediately and work towards a solution.
We look forward to working with you soon.