07 November 2022
The incredibly popular iconic family fun game, BOP IT!, is coming to arcades for the very first time as a brand-new redemption game. Brought to you by leaders in arcade game development, Sega Amusements International and leaders in global entertainment brand creators Hasbro, BOP IT! Arcade will be unveiled at IAAPA Orlando on booth 1010 – You don't want miss out on this big launch event!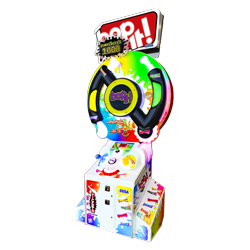 "A household name, BOP IT! is one of the most successful electronic games in the world and to this day continues to be on everyone's wish list, and now players can enjoy the fast-paced, interactive game at their local family entertainment centre or arcade. We are incredibly pleased to work with Hasbro to bring this fun compelling game to our customers." Says Paul Williams, CEO at Sega Amusements.
BOP IT! Arcade is a fun and intuitive skilled-based redemption game that will bring family and friends together to play time and time again. Just like the hand-held game, players must follow the voice and visual prompts to perform actions in quick succession. There are five actions to perform; Bop It, Flick It, Pull It, Spin it and Twist It, and the more players get right, the higher the ticket wins. The game gets progressively more challenging, thus testing players' speed and hand-eye coordination, and rewards them for the biggest scores!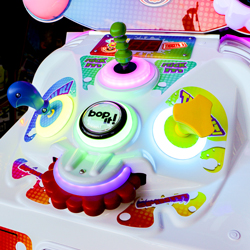 BOP IT! Arcade is presented in a gorgeous modern, high impact cabinet and features vivid colours and bright lighting that draws players to the game. The playful mechanical controls encourage players to coin up and challenge BOP IT! Arcade again and again!
"Player reaction to BOP IT! Arcade has been phenomenal, and the strong cash box confirms the player's appetite for this "just one more play" game. BOP IT! Arcade will create a lot of buzz and high energy in any location, encouraging other players to participate in the fun. BOP IT! Arcade is a small footprint, big-income-potential game and will undoubtedly become a must-have for locations worldwide in 2023 and beyond!" Justin Burke, Sales Director at Sega Amusements.
We look forward to welcoming you to our booth 1010 at IAAPA to experience Bop It! Arcade, and so many other market-leading new games. See you in the sunshine state, from 15 - 18 November, at the Orange County Convention Centre, Orlando, USA.
For further information contact SEGA Amusements International on +44 (0)208 391 8090 / +1 847-364-9787; sales@segaarcade.com.