20 October 2020
That's right! We are adding two deluxe motion games to our popular Buy Now Pay Later finance deal. Helping you bring some "thrill-seeking", "motion mayhem loving" visitors to your location.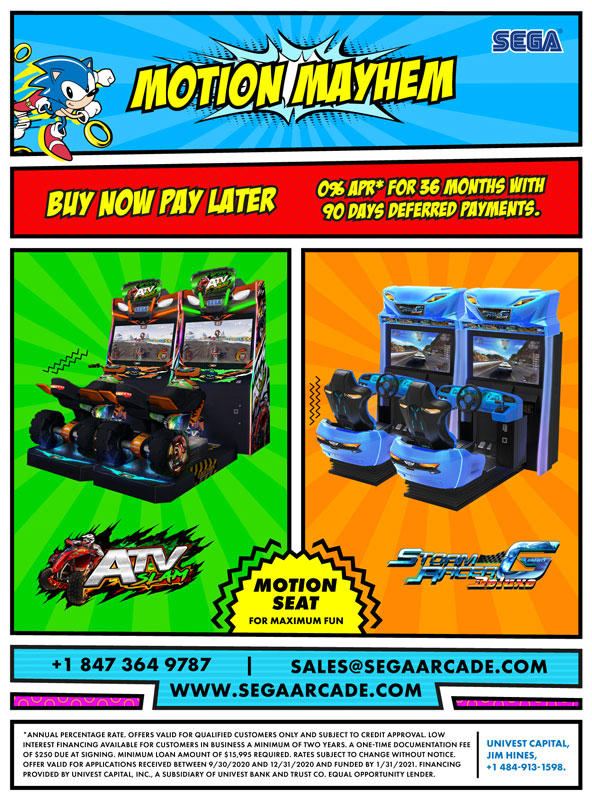 "Our Buy Now Pay Later offer on House of the Dead Scarlet Dawn and Transformers Shadow Rising has already helped many operators get new attractions into their location, to entice visitors back into their location. We are now expanding the offer to our iconic motion racing games ATV Slam and Storm Racer to give our operators a chance to pump more excitement into their venue." Says Paul Williams, our company CEO.
Paul added, "Our Buy Now Pay Later deal lets you choose the games you want on 0% APR for 36 months on top of the 90 days deferred payments. This gives you peace of mind when managing your cash flow".
ATV Slam is hands down the coolest new ATV racing game on the market. The custom-developed air cylinder-based motion platform delivers a thrilling experience. The cabinet features a life-size quadbike cabinet that demands players attention at any location. While ten exotic game environments, wind effects, razor-sharp graphics, and heart-pounding soundtracks gets the player's adrenaline pumping.
Storm Racer is a mark of a great video racing game. Highly responsive and immersive motion seat gets the heart pounding. While stunning graphics lets players feel the sense of speed across 12 tracks. 14 sporty cars takes players to blazing-fast speeds especially when they push the boost throttle.
Hurry this is a limited time offer that ends on December 31st, 2020. So pick up the phone to order your games from Sega on +1 847-364-9787, sales@segaarcade.com, or contact your local Authorized Sega Distributor or contact Jim Hines (hinesj@univest.net) at Univest Capital, Inc.,
For full terms and conditions email sales@segaarcade.com