18 December 2017
Sega has released free software upgrade for its award-winning video racing game Daytona Championship USA.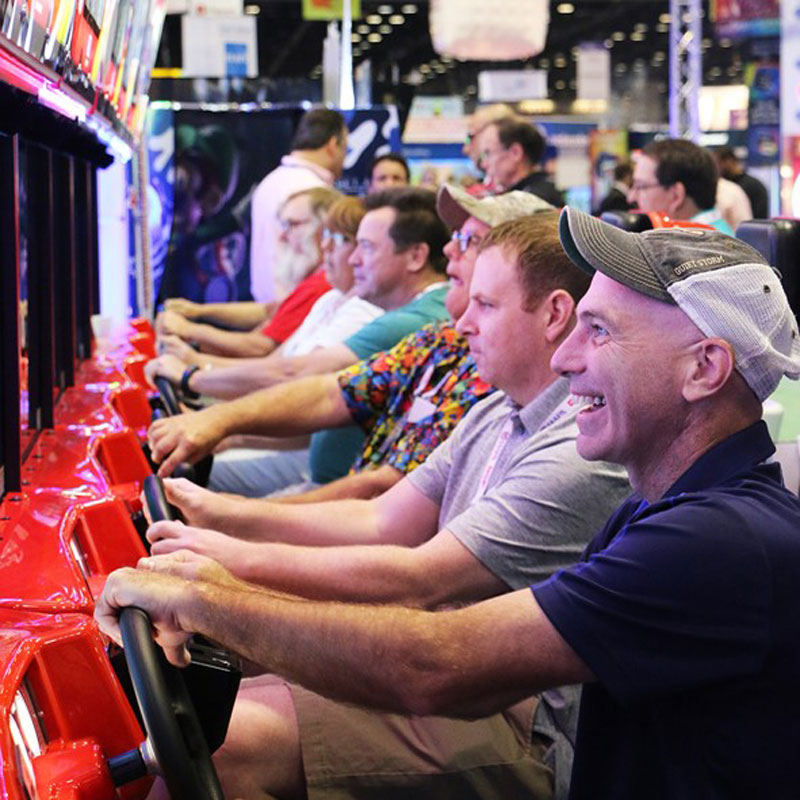 Packed with brand new software features and refined existing features this software update amps up the Daytona Championship USA gameplay experience – 'the best just got a whole lot better!'
All New Panoramic Attract Sequence: Now you can watch the attract sequence action explode across all linked screens (minimum 4 linked cabinets required).
Improved Handling: Refinements to the car handling makes you feel even closer to the action.
Refined Force Feedback: Lets you feel every crash, smash and grind as you fight your way to the finish line.
Revised difficulty and AI (Artificial Intelligence): Making the game more accessible for beginners while retaining the classic Daytona challenge for the pros.
Upgraded Graphics and Audio: Delivers an immersive experience that captures the essence of full throttle racing.
All New Party Mode: Operators can now schedule private events for parties and automate a unique event for up to 128 named players.
"We want all our customers to have this important software upgrade, so we are offering it completely Free of charge. In fact, we have already started shipping out the upgrade on a USB-drive to our Daytona customers. You should get your USB drive shortly, if you do not receive your USB-drive, simply email us at sales@segaarcade.com so we can arrange one to be sent out to you. Comprehensive software installation guides are also included on the drive." Says Justin Burke, General Manager at Sega.
Justin continued "The entire process is easy you just need one USB-drive to update multiple cabinets, and the same USB-drive will also update the billboard and gameboard." All Daytona games now ship out with this exciting new software update. For further technical advice contact Sega's technical support on +44 (0) 208 391 8060 (then option 2) or +1 224-265-4283.
Picture above shows cars zoom across multiple screens with the all-new Panoramic Attract Sequence!
Paul Williams, CEO at Sega says "Daytona has been at the top of operators buying list for 2017 and we are sure, that with this update, it secures the top spot for 2018 too. We exhibited Daytona with this software upgrade at IAAPA, and the reception was phenomenal. Players and Operators loved the enhanced game-play and new features. Some players even going as far to say, 'it's a whole new game compared to last IAAPA, this Daytona is their favourite arcade racing game'. This software upgrade marks our continued commitment to keeping Daytona as the number one driver on location."
Click the image above to learn more about DaytonaChampionship USA - Party Mode!
For more information contact Sega on +44 (0)208 391 8090; +1 (847) 364-9787; sales@segaarcade.com, or contact your local Authorized Sega Distributor. For technical support call +44 (0) 208 391 8060 (then option 2) or +1 224-265-4283.
DAYTONA® is a registered trademark of the International Speedway, Inc. and licensed to International Speedway Corporation.