28 January 2019
The 10th-anniversary edition of EAG Show was an overwhelming success for Sega. The company showcased a huge range of premier products from all significant amusements genres.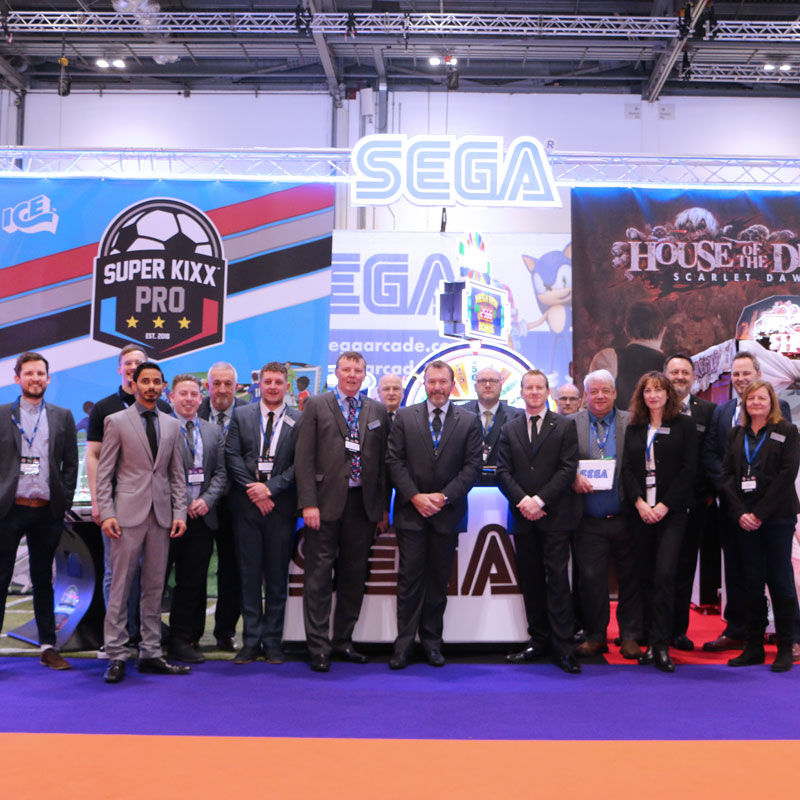 "Our stand was buzzing with visitors! Brand new games such as House of the Dead Scarlet Dawn were busy throughout the show with excited visitors queuing to experience the horror spectacle. Based on the high demand and great comments such as 'best House of the Dead ever' and 'most immersive theatre game on the market' it's clear this blockbuster brand is a powerhouse at attracting players." Says Lester Travasso, Sales & Marketing Executive at Sega.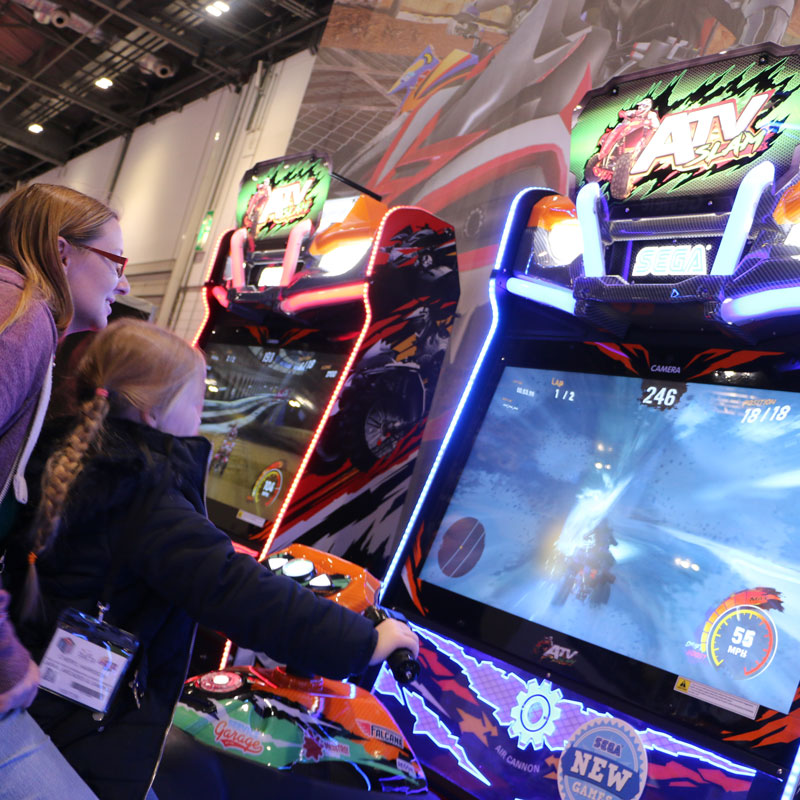 Also unveiled for the first time at EAG was ATV Slam, taking All-Terrain Vehicle (ATV) racing to a whole new level, with a life-size quadbike mounted on a custom developed motion platform. "Positive reviews at EAG and strong initial income reviews are proving this is a must-have motion racing game," says Justin Burke, General Manager at Sega. Sega also presented its big licenced video game TRANSFORMERS Shadows Rising an action-packed, rail-blaster shooting game and Daytona Championship USA in a new compact 42" standard cabinet.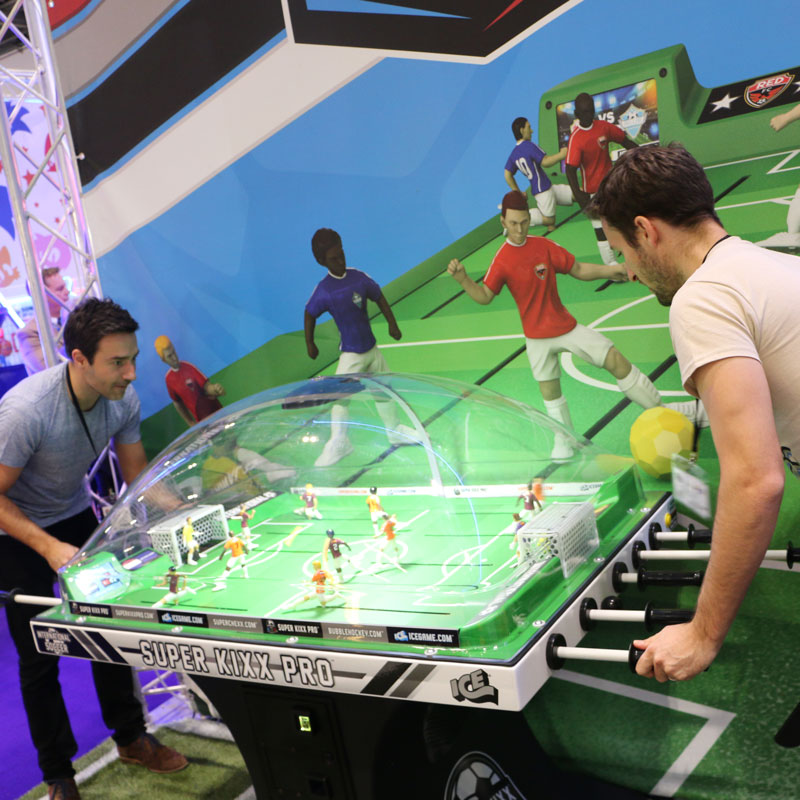 There were plenty of new redemption titles for operators to choose from on Sega's booth. Masters of innovation, ICE reinvented the classic 'whacker' game with Whack A Clown bringing a fun new twist and excitement to the game, which is presented in a beautiful carnival themed cabinet. Whack A Clown was a big hit with operators and players alike. Taking the show by storm was ICE's Super Kixx Pro, as one visitor described it "the most exciting and innovative table football game to hit the market in decades." Also new from ICE was Waterfuls, bringing the Tomy classic kids' game to the arcade featuring virtual water; along with Tons of Tickets, a self-refilling RFID chipped ticket crane.
Sega's European debut for Pixel Chase was welcomed by operators. The brand-new skill-based ticket redemption saw visitors throw as many balls into the 4x4 LED lit target holes within the time limit. The impressive slick 'modern retro' cabinet with bright LED lighting enticed visitors, to have a play. Other European first include Sega's Ball Runner, Hot Racers and Sonic Kids Basketball, that all got glowing reviews from visitors.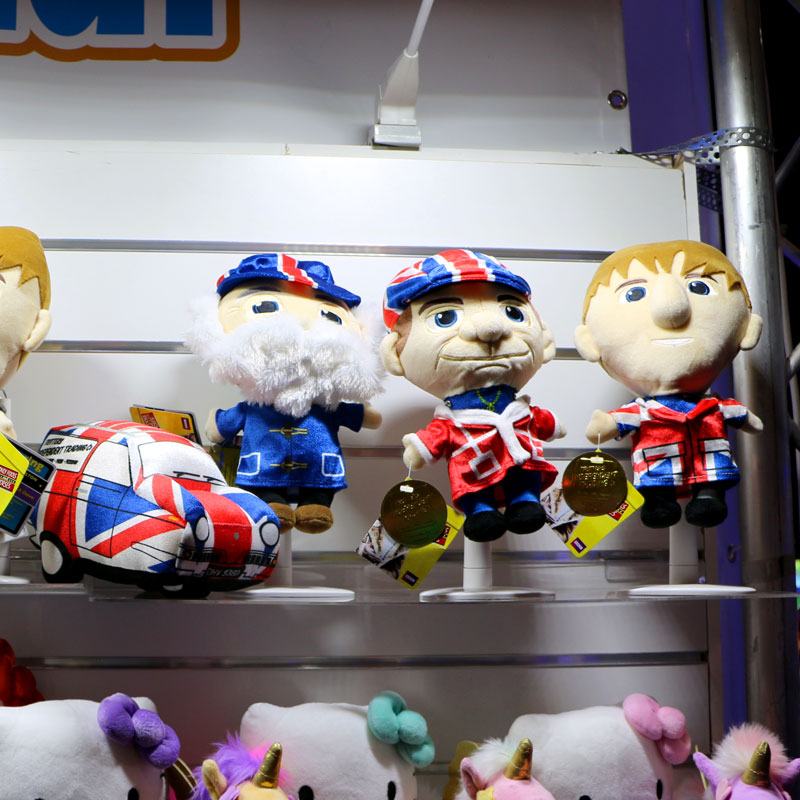 Sega Prize International showcased its brand new Only Fools and Horses Union Jack Edition plush. This special collector's edition is a unique twist on the already hugely successful plush range, appealing to all regular visitors and holidaymakers alike. The ever-popular Tokio Lifestyle range was also featured which now includes the Tokio Pure headphones, boasting the latest Noise Cancelling Technology. Not forgetting the latest craze in headphones, the soft and comfy Sonic HUGphones, headphones specifically designed for kids featuring our very own Sonic The Hedgehog. Sega Total Solutions were also on stand to promote their market leading redemption tickets, change machines and essential spares.
"We are very pleased to be part of the ten-year history and anniversary of EAG. This show has gone from strength to strength for us and always gets the new year started on a positive note. This year's show was an overwhelming success on all fronts. Thanks to EAG and our highly competitive top-quality product offering, we expect strong growth in our traditional markets in 2019 and beyond" concluded Paul Williams, CEO at Sega.
For more information or to order the above games contact Sega on +44 (0)208 391 8090; sales@segaarcade.com, or contact your local Authorized Sega Distributor.