31 March 2023
The company we know today as Sega Amusements International has its origins rooted back forty years ago, with official records showing it was born on the 31st of March 1983.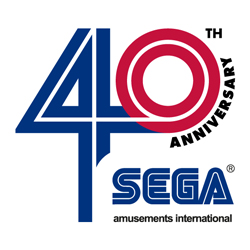 Those that have been around long enough will recall names such as Ruffler & Deith and Deith Leisure that had close early associations with the Sega name. The suffix 'Europe' was added to the company name in the 1990s', fast forward to 2015 the company's current name was created reflecting its increasing global reach in the amusement market. The most recent event in the company's history occurred more recently on the 25th of March 2021, when CEO Paul Williams undertook a Management Buyout allowing the company to charter its own exciting new destiny.
As we reflect on the past 40 years, Sega Amusements International has always been at the forefront of some of the most innovative products in the industry. From sensational video racing games like Ford Racing, GRID and Daytona Championship USA which were all front runners in their field and were unmatched. Also, in that list, major blockbuster licenced products cannot be forgotten, such as the Transformers series, Plants vs Zombies, Mission Impossible Arcade, Jumanji and most recently and notably BOP IT! Arcade. As well as the smash hit redemption game Power Roll. In the early 2000's the company branched out and partnered up with other leading Amusements manufacturers such as ICE, Komuse, Wahlap and more recently 501 Entertainment. These partnerships let operators tap into a wider product portfolio to suit their guests' preferences.
As the company evolved over the years, it added new dedicated departments to better suit customer's specific needs. These include Sega Total Solutions, Sega Prize International and Sega Amusements Operations. Sega Total Solutions was formed in 2007 to provide the best in class customer service through spare parts, redemption tickets, change machines, ticket eaters and cashless payment solutions. Sega Prize International was also formed in 2007 and specialises in providing locations with creative and premium quality licensed plush and prizes that players yearn to win. The Sega Amusements Operations division was formed in the early 2010's and has seen rapid rise in recent years. The team prides itself in delivering industry-leading amusement offerings to attract visitors, keep them entertained and create happy memories.
Paul Williams, CEO at Sega Amusements International commented "We would like to express our deepest gratitude to our customers, partners, and suppliers worldwide for your continued support and loyalty over the past 40 years. We recognize that without your trust and confidence in our products and services, we would not be where we are today.
I want to extend a special thank you to our fantastic team for their unwavering dedication and commitment to excellence. Your hard work, expertise, and passion have been essential to our success and growth over the years.
Thank you all for being part of our journey and look forward to many more years."