20 September 2021
We are thrilled to announce the launch of brand-new games at IAAPA Expo Europe. In addition to these exciting games, we will also have a range of our hit products for you to experience in person on our booths 2-929 & 2-1229. IAAPA Expo Europe takes place from 28th to 30th September at Fira Barcelona Gran Via, Barcelona, Spain, and we hope to see you there.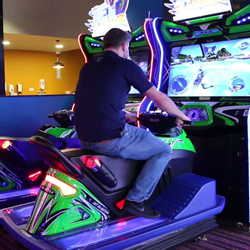 Making its debut will be Jet Blaster, the only watercraft game on the market right now. The game features a jet bike on a custom-developed air cylinder-based motion platform, so you experience the most realistic watercraft racing action. High-end graphics produces beautiful life-like sceneries that immerse you into the gameplay. Whilst wind effects, energetic soundtracks, and 'boost' for blazing speed will get your adrenaline pumping.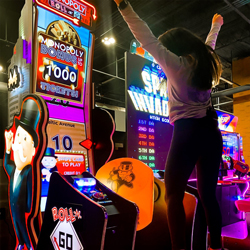 Monopoly Roll N Go is a brand new and top-performing redemption game from ICE. The beautifully designed cabinet houses two vertical 55" monitors, a spinning cube controller and Life-sized Mr. Monopoly artwork creates an unmissable attraction. Players must skillfully spin the LED-lit cube to land on properties. Collect the same colour family to win a Monopoly Bonus.
Our Hero game - Shoot It Win It will be on show, and it's a game you don't want to miss. This classically simple game combines the fun of shooting a gallery with a high-value prize merchandiser. Players use the fixed gun to shoot cork pellets at targets to drop the prize. With its intuitive and fun gameplay, Shoot It Win It income has been soaring, making it a popular game for players and operators this summer.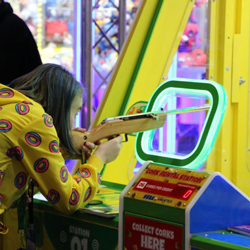 Our booths 2-929 & 2-1229 are a 'must visit' for operators looking to maximise their amusement income potential. Our booths will also feature other great games such as the stunning single-player prize game Capto Crane, thrilling zombie shooter House of the Dead Scarlet Dawn, the ultimate skill redemption Hoop It Up, the coolest puck launch redemption game on the market with All In and of course Super Kixx for all the football fans out there.
The Sega Team looks forward to seeing you in person at IAAPA Expo Europe next week.
For more information or order contact Sega on +44 (0)208 391 8090; sales@segaarcade.com, or contact your Local Authorized Sega Distributor.