15 September 2023
SEGA Amusements International is delighted to showcase exciting new titles on stand B-1603 at IAAPA Expo Europe, from the 26th – 28th of September 2023 at Messe Wien Exhibition & Congress Center, Vienna, Austria. As pioneers in arcade development and with a rich history of hugely successful games, we aim to bring you the best-performing entertainment products in the industry.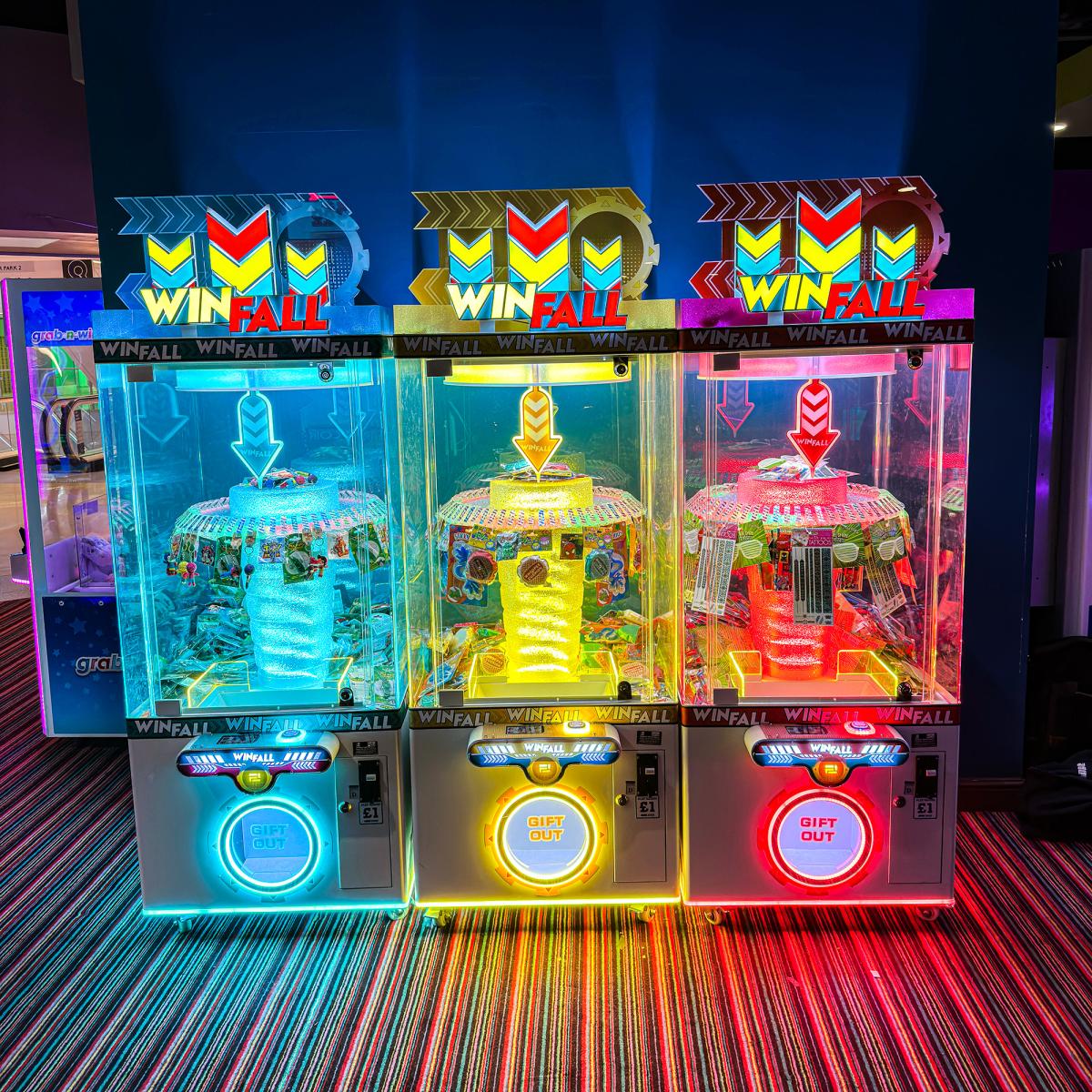 Making its big debut will be Win Fall Revolution! This stunning new, prize-game is available in striking combination of red, blue, and yellow cabinets. Win Fall Revolution creates an irresistible visual spectacle and offers players plenty of opportunities to win! Along with the mesmerizing rotating prize pedestal, which showcases all the exciting prizes, it is a prominent centrepiece.
In addition to Win Fall Revolution, we will be unveiling some of our latest video games, including Drone Racing Genesis. This unique and exhilarating game captures the thrills of drone racing, bringing this exciting sport to indoor entertainment locations for the very first time. Visitors can also get their adrenaline pumping with Storm Rider 2, a motion-based motorbike racing game featuring futuristic bikes and an impressive fully lit billboard designed to grab visitors' attention.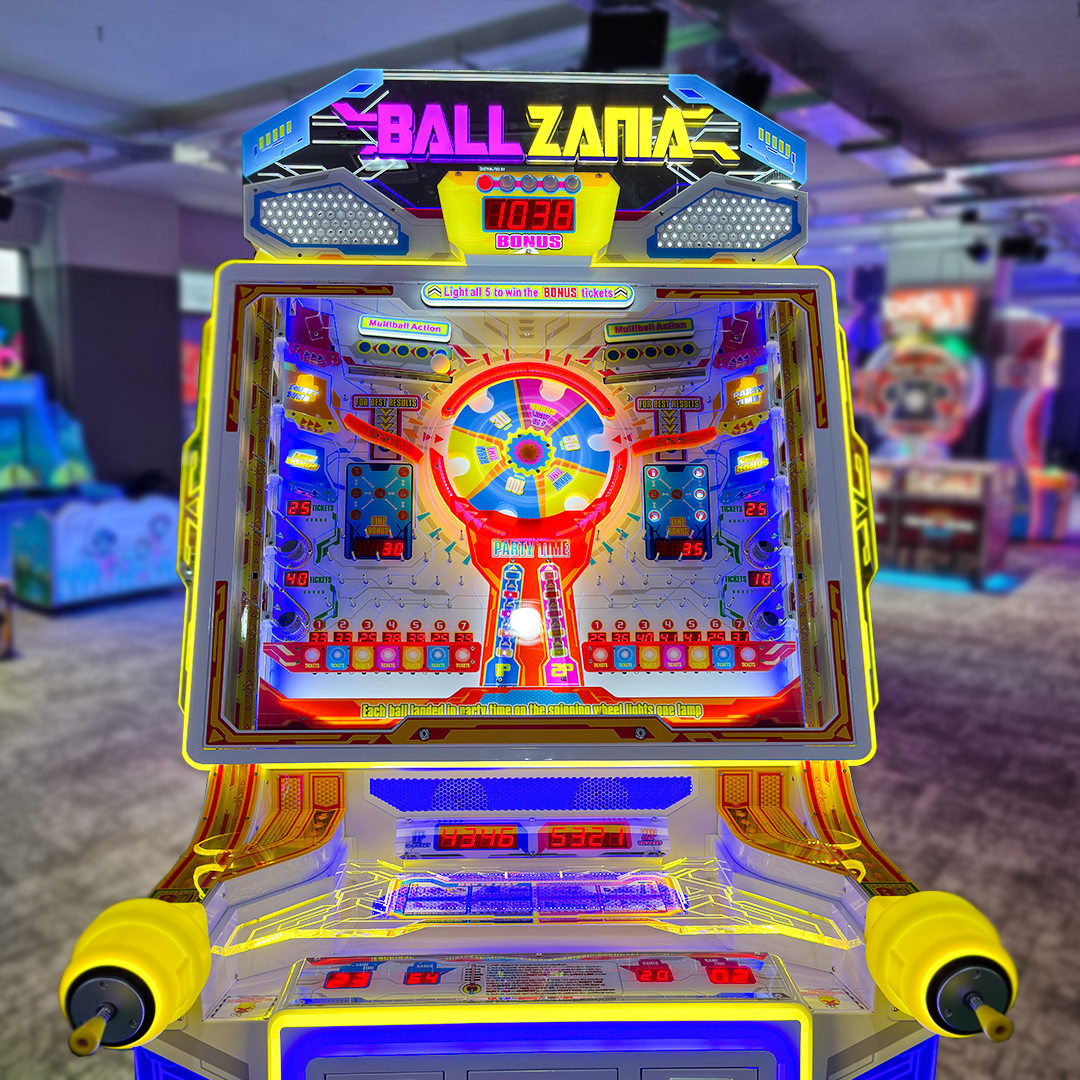 We are excited to introduce Ballzania at the show! This fast-action, skill-based redemption game that features crisp edge lighting and a stunning header, instantly grabs players' attention. It also creates an exciting frenzy as balls bounce off pins, captivating both players and spectators. Don't miss the chance to experience our global hit redemption game, BOP IT! Arcade. With its fun and intuitive gameplay, players follow voice and visual prompts to perform actions in quick succession, testing their speed and hand-eye coordination – it's fun for players of all ages!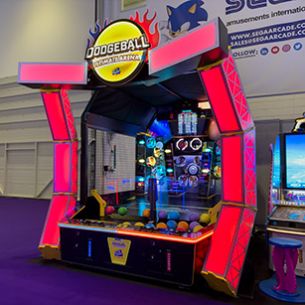 Our booth will also feature top games from leading redemption manufacturer ICE, including Dodgeball Ultimate Arena, where players must aim at random pop-out targets and stationary holes to score points and win tickets. In World Football Pro, test your skills in a penalty shootout against a mechanical goalkeeper – it's all about skill and timing to get as many balls past the moving keeper and into the net before time runs out, with higher scores yielding greater ticket winnings. Explore the pirate-themed ball toss game, Shipwreck, enjoy the iconic family board game Monopoly Roll-N-GO as a skill-based redemption game, and try your luck at the popular ticket crane, Tons of Tickets.
Immerse yourself in our market-leading social entertainment game, Augmented Reality Darts. This interactive experience takes darts to a whole new level. Using a plain white dartboard, gameplay graphics are superimposed over the board and its surroundings with an ultra-bright, laser projector. With intuitive controls, fun games that ignite competitive spirits, and three difficulty levels, this game encourages players of all ages to join the fun!
As the demand for cashless systems grows, we've partnered with Sacoa the market-leading provider of cashless systems. They are conveniently on the booth right next to us, and they'll be more than happy to answer any questions you may have about their innovative products.
Join us on stand B-1603 and prepare to be amazed by the future of arcade entertainment!
Want to visit the show? CLICK HERE TO REGISTER
For more information or to order contact SEGA Amusements International at +44 (0)208 391 8090 sales@segaarcade.com