06 September 2018
The team at Sega is very excited to unveil TRANSFORMERS Shadows Rising and Daytona Championship USA 42" Standard at EAS on Sega stands 1-1341 and 1-1342 at RAI Amsterdam, Netherlands, from 25th to 27th September.

TRANSFORMERS Shadows Rising is an action-packed hit new video game from Sega and Hasbro. With global brand equity over 4 billion dollars, Transformers is a blockbuster franchise that attracts a huge family audience making it an ideal game for the amusements industry. Players team up with movie's stars, Optimus Prime, Bumblebee and Sideswipe, players must battle their way across the world to stop evil Megatron's plan. The simple to use controllers, easy to follow storyline and fast-paced gameplay attracts casual and core gamers. Razor sharp graphics and in-game physics comes to life on a huge 55 inch, combined four-channel surround sound with subwoofer players experience "metal on metal" combat that is genuinely satisfying.
"Brand new Hyperenergy Tech Lever brings a new type of interaction to the game." Says Justin Burke General manager at Sega. Players can collect unique items called 'Hyperenergy Tech Cubes' giving the player special abilities, then by pushing the lever up players destroy multiple enemies or pull the lever down for a defensive move.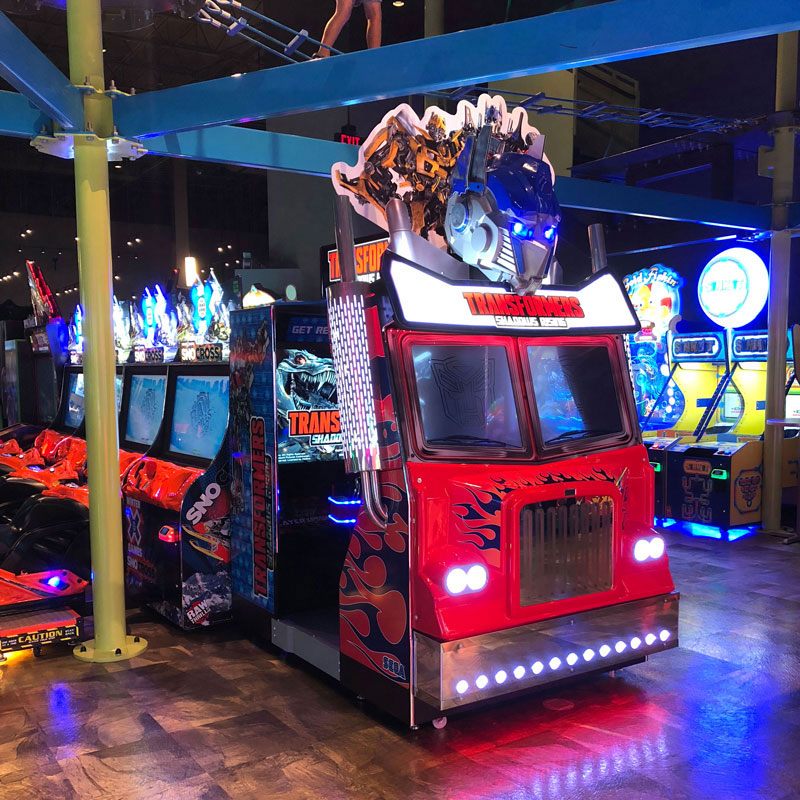 "The gameplay is phenomenal, and the jaw-dropping truck shaped cabinet stands out at any FEC. Gorgeous chrome front grill, huge exhausts, lifelike Optimus Prime head with led lights for eyes gets the heads turning. Wrapped with vivid Transformers liveries, Multi-coloured LED lighting effects and dual-sided marquee makes this game hard to miss from any angle. On location, reviews have been fantastic, and income results have beat operator expectations." Justin added.
Also, new on Sega's stand at EAS will be Daytona Championship USA in 42" standard size cabinet. Designed to fit in even more locations, Daytona Championship USA standard has a smaller footprint, lower height and delivers the same IAAPA Brass Ring award-winning game-play as the deluxe cabinet. Featuring the iconic Hornet car themed marquee, wrapped in racing sponsored graphics and bright, colourful LED edge lighting this cabinet dazzles and excites players.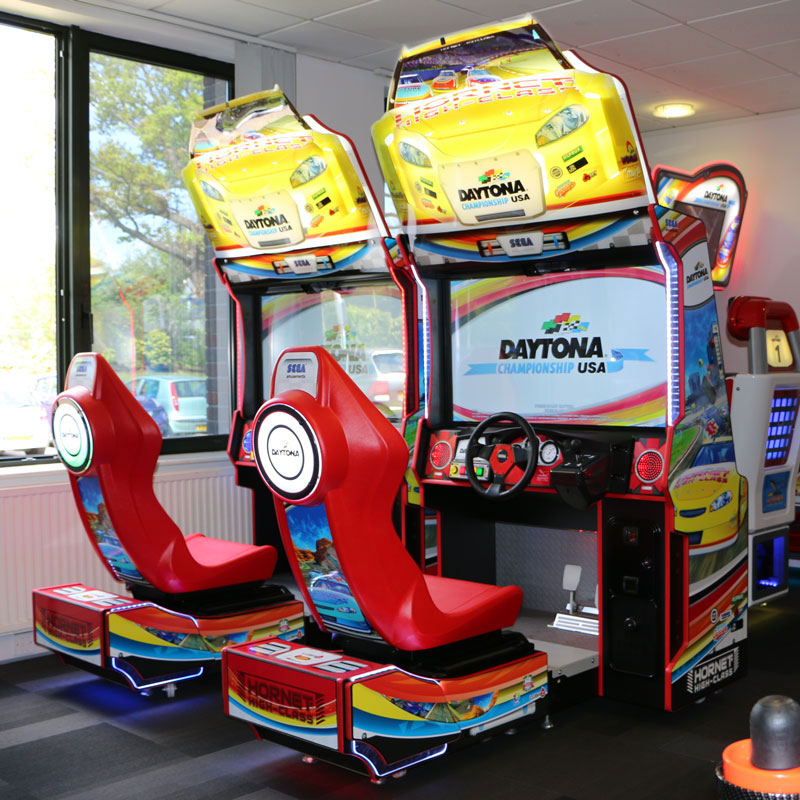 Maria Villarroya, International Sales Manager at Sega, says "The global demand for Daytona Championship USA standard has skyrocketed thanks to a price point that makes this game an excellent return on investment." Revolutionary new instant re-match puts players right back in the race, encouraging lots of repeat play. All-new Tournament Mode attracts new players to a location and simplifies setting up tournaments for the operator. While 'Sega-IQ Intelligent Service Menus' feature cleverly offers prompts and troubleshooting advice to an onsite technician.
Players get into a white-knuckle race to get a podium finish. All the insanely fast action unfolds on a 42" high definition 60 frames per second screen. Arcade-perfect handling, amazing 'Artificial Intelligence' and 'Catch Up' makes this game easy to pick up but hard to master making it ideal for casual and pro gamers. The optional 4-speed gear shifter, six great tracks, new cars and game modes bring more fun and excitement for players old and new.
"We are delighted to be launching our premier video titles at EAS this year. Our stand will also feature other high earning games from Sega as well as a brand-new redemption game from ICE. EAS is a great show to meet and experience new innovative product, so we hope to see you at on our stand 1-1341 and 1-1342" concluded Justin.
For more information or order contact Sega on +44 (0)208 391 8090; sales@segaarcade.com, or contact your Local Authorized Sega Distributor.