05 December 2019
SEGA's stellar line-up of games have hit the spot, according to visitor's reaction to the company's recent IAAPA show. Games across all major genres from video, merchandise and redemption were exceptionally well received.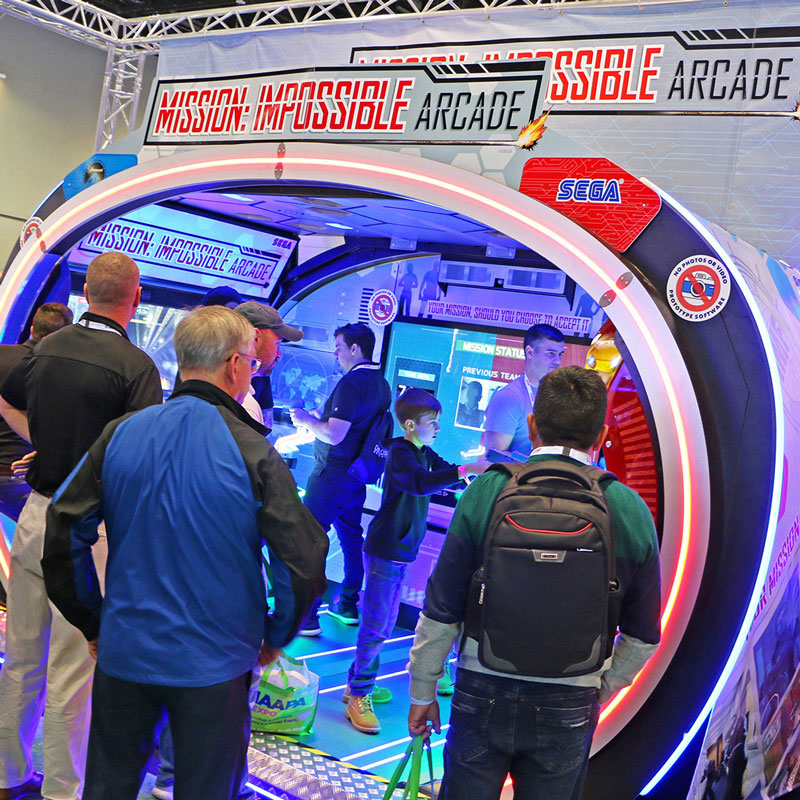 Games such as MISSION: IMPOSSIBLE ARCADE, Shoot It Win It and Mario & Sonic at the Olympic Games Tokyo 2020 Arcade Edition stood out as the most popular games at the show. Paul Williams, CEO at SEGA, says "this year we had one of the best IAAPA shows in recent years. The whole international sales team is talking about how great the comments and feedback were from all their customers – a key message is that SEGA has top games in each of the main amusement categories".
MISSION: IMPOSSIBLE ARCADE was a showstopper, the impressive next-gen 4 player Super Deluxe Attraction cabinet got heads turning, and visitors queued to play the adrenaline-fueled multibillion-dollar blockbuster film franchise-based game. The IMF (Impossible Mission Force) safehouse themed cabinet, was full of bright LED lighting and details that convey the feel of the top-secret high-tech hideout. While the brand-new dual pistol controllers marked the next stage in-game controller technology. Visitors explained they were impressed by game-play and truly awesome sound system.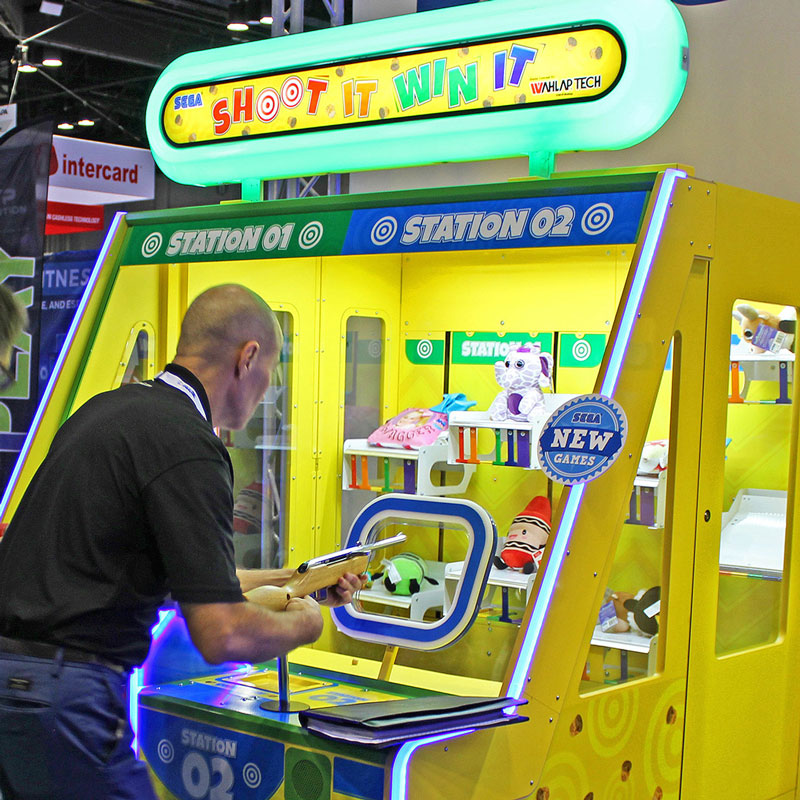 There was a lot of buzz and excitement for Shoot It Win It. The game was given prime location on SEGA's booth, the big feature presentation with two cabinets gave visitors plenty of chance to experience this game. Justin Burke, General Manager at SEGA says "Shoot It Win It is a classically simple concept with intuitive gameplay that makes it an instant draw for all players. The game combines the fun of shooting a gallery with prize vending. Player reaction to this wherever we have it sited has been phenomenal, they just love it – and that is translating into excellent cashbox results". Shoot It Win It is presented in a brightly lit, attractive yellow cabinet so that the game stands out in any prize merchandiser area. 8 large prize positions and quick side entry refilling doors makes this game easy to operate.
Visitors also got a chance to get competitive and experience Mario & Sonic at the Olympic Games Tokyo 2020 Arcade Edition. The only official licenced Olympic arcade game in the world is from SEGA and Nintendo. The game features twelve exciting events, and twelve loveable characters to choose from.
Other popular games on SEGA's booth at IAAPA were horror attraction House of the Dead Scarlet Dawn, quad bike racing spectacular ATV Slam and contemporary new single-player crane Capto Crane.
To order or for further information contact SEGA on +1 847-364-9787, +44 (0)208 391 8090, sales@segaarcade.com, or contact your Local Authorized SEGA Distributor.
MISSION: IMPOSSIBLE ARCADE - TM & © 2019 Paramount Pictures. All Rights Reserved.
MARIO & SONIC AT THE OLYMPIC GAMES TOKYO 2020 ARCADE EDITION - TM IOC/TOKYO2020/USOC 36USC220506. Copyright © 2019 International Olympic Committee ("IOC"). All rights reserved. SUPER MARIO characters © NINTENDO. SONIC THE HEDGEHOG characters ©SEGA.