12 September 2019
The team at Sega is very excited to unveil Shoot It Win It, Cubic 4 Catcher and Centipede Chaos for the first time in Europe at next week's IAAPA Expo Europe.
The newly re-branded show from Euro Attractions Show (EAS) to IAAPA Expo Europe (IEE) is considered the leisure industries premier event in Europe. Sega invites you to visit its booths 719 & 819 to experience industry-leading games from 17th to 19th September at Paris Expo Porte de Versailles, Paris, France.
Sega has previously brought to market globally sensational prize vending and crane games, such as Prize Locker and UFO Catcher. With constant innovation, Sega launches two brand new games that are sure to be massive hits with Shoot It Win It and Cubic 4 Catcher.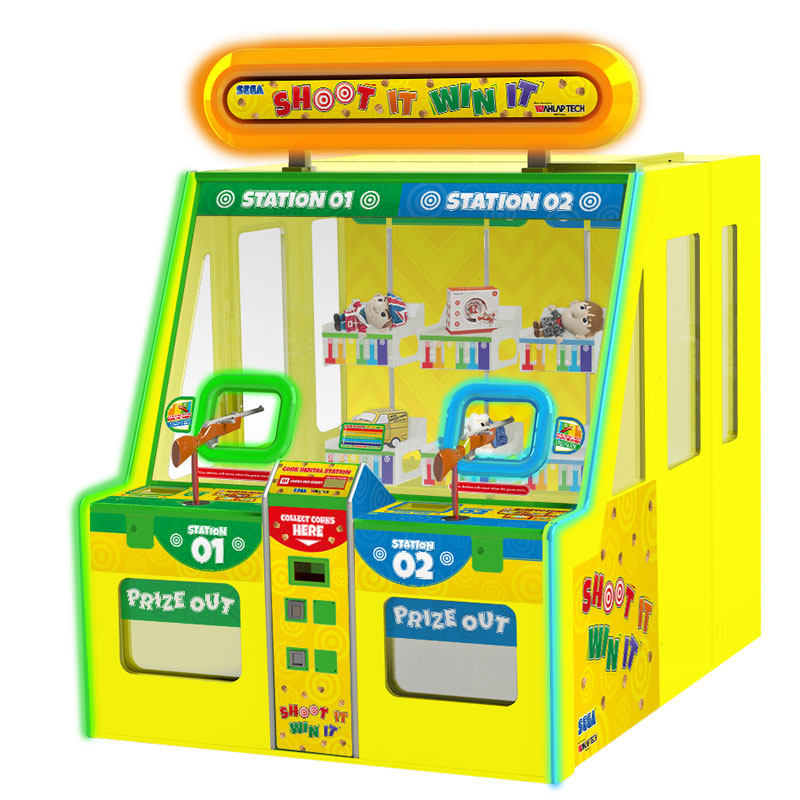 Shoot It Win It is Sega's latest game that combines the fun of shooting a gallery with a high-value prize merchandiser. The concept of this game is classically simple and a lot of fun. Players must use the fixed gun to shoot cork pellets and drop the targets located below each prize zone to win the prize. Presented in a brightly lit, attractive yellow cabinet the game stands out in any prize merchandiser area. 8 large prize positions; quick side entry refilling doors makes this game easy to operate.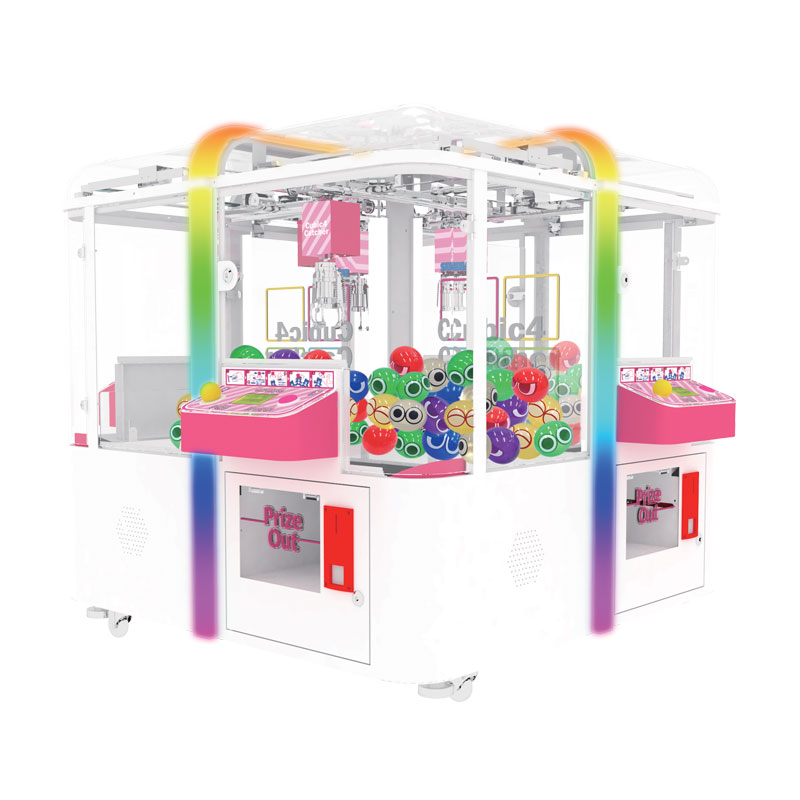 At just 1m (3.2ft) high Cubic 4 Catcher is a low profile four-player prize crane. The see-through cabinet design, attractive lighting and player positions on every side makes this an ideal centrepiece in any FEC or arcade. The transparent ceiling gives players a unique birds-eye perspective, fascinating players as they try to collect prizes. Ideal for cute small prizes Cubic 4 Catcher features a small footprint that is bright and fresh looking.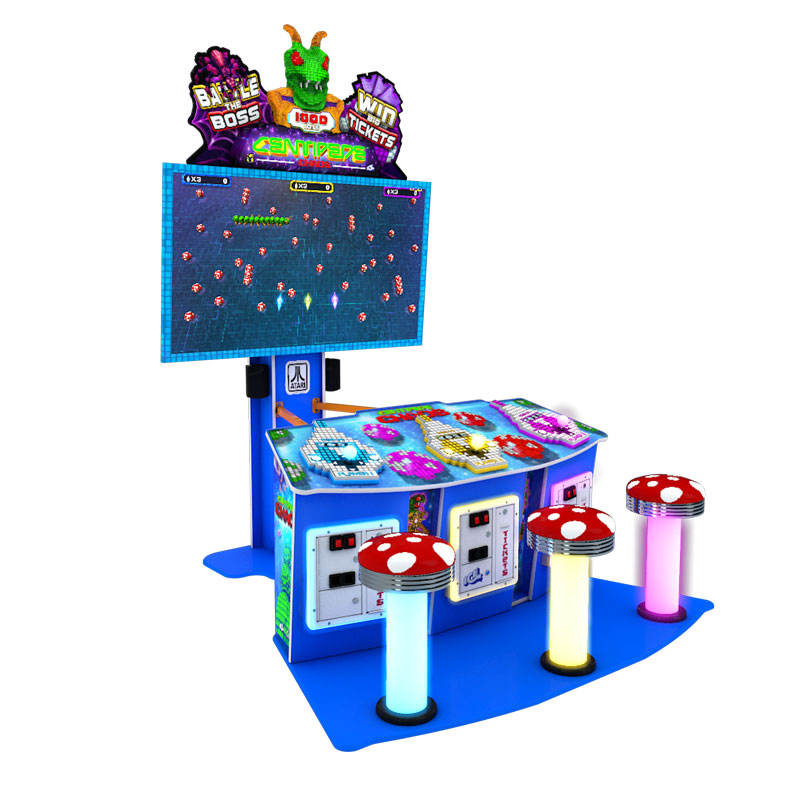 Centipede Chaos is a brand new three-player video redemption game from world-leading redemption manufacturer ICE (Innovative Concepts in Entertainment). This 80's classic crawler game is back and better than ever before. 10 action packed waves, fun power-ups and challenging bosses adds excitement and depth to the gameplay. The game features an incredible 75-inch monitor brings all the graphics and "Chaos" to life. The three LED-lit stools not only provide comfort for the players but are also very appealing in the game room.
Sega's booth is as 'must visit' to experience the latest video games in the industry. Never seen at this show before, ATV Slam is an All-Terrain Vehicle (ATV) racing game that is packed with cutting edge graphics and custom developed motion platform. The sensational cabinet features a life-size quadbike with huge back wheels, chrome engine compartment and scintillating LED lighting effects from top to bottom.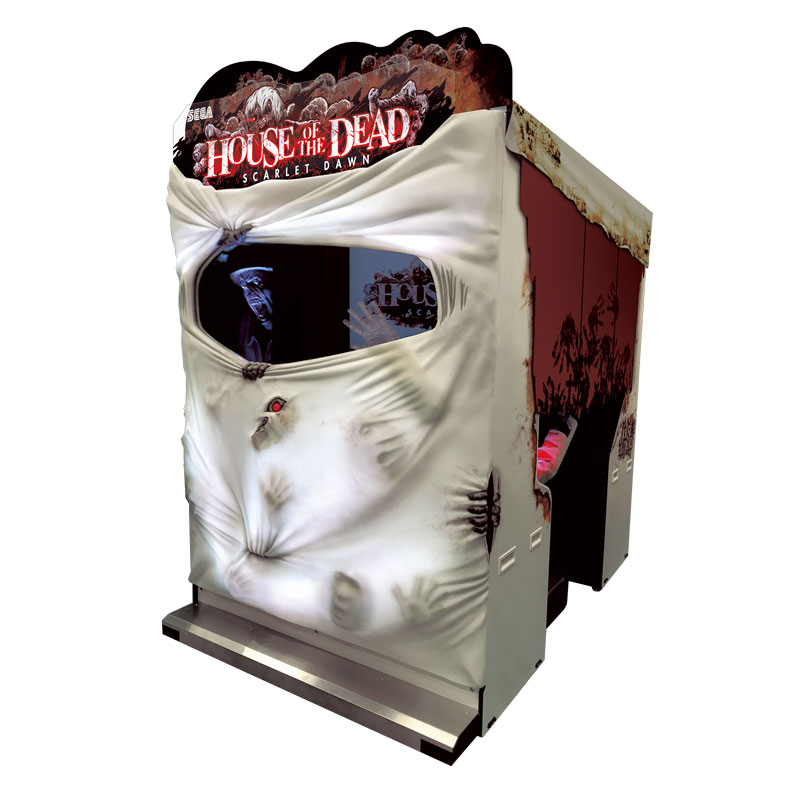 As Halloween approaches the horror spectacle House of the Dead Scarlet Dawn is one not to miss. Look out for the scary 3D moulded cabinet that gives a sense of zombies trying to escape the cabinet. Using state of the art 'Unreal Engine 4' graphics technology vivid action is portrayed on a huge 55" screen. Combined with high spec bass shaker, 5.1 channel surround sound, air cannon blasters and dedicated spot LED lights makes this game incredibly immersive game.
Score some goals with Super Kixx Pro, bubble football game. This game packs in endless hours of fun for the entire family. The Audio syncs with the game making every goal score a thrilling experience. The in-game football player characters have been carefully crafted to allow players to pass, shoot and score just like in real life football.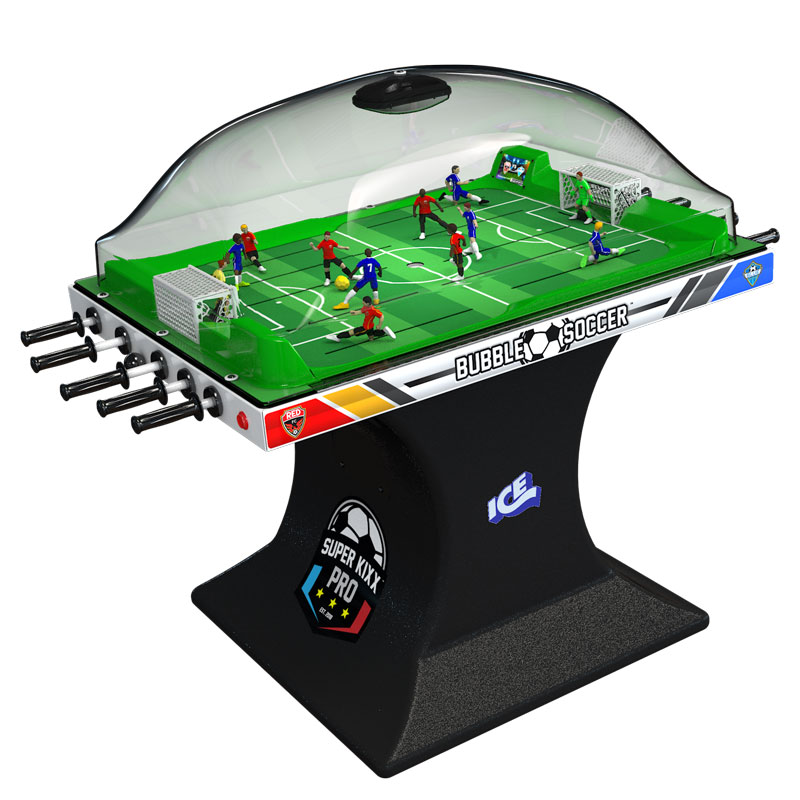 Sega will also have a range of other hit games such as; Whack A Clown - a carnival-themed redemption whacker with a fun new twist; Tons of Tickets - the most exciting evolution of the ticket crane; Ball Runner – classic fairground styled redemption game aimed at the whole family; Pixel Chase; Sonic Kids Basketball and much more.
France is one of our core markets, so we are delighted to be putting on a big show in the great city of Paris, 'The City of Light'. This IAAPA organised Expo is a fantastic opportunity for operators across Europe, Middle East, Africa and Asia to network and experience the latest innovations in our industry. At this year's show we have the widest choice and strongest line-up of games. Martin Riley International Sales Manager and the entire Sega Sales Team looks forward to seeing you all our stand 719 & 819.
For more information or order contact Sega on +44 (0)208 391 8090; sales@segaarcade.com, or contact your Local Authorized Sega Distributor.