13 November 2019
SEGA, a leading amusement games developer and manufacturer, is set to impress at IAAPA with a stellar line-up of video, redemption and prize kids games. Sega's two booths 1506 and 1606, will be the place to be at IAAPA for those looking for top-performing, great quality games for whole family. In this first of two editions, Sega reveals its strong video games showcase.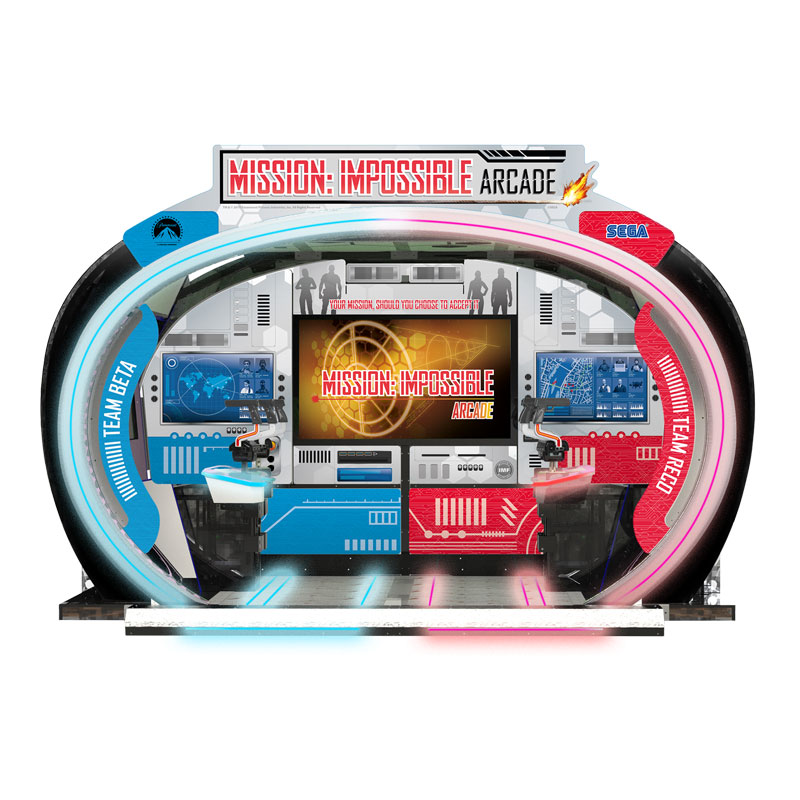 MISSION: IMPOSSIBLE ARCADE is a must experience game at IAAPA. "We are very excited to bring the multibillion-dollar blockbuster film franchise MISSION: IMPOSSIBLE to our market. Presented in a revolutionary new 4 player Super Deluxe Attraction cabinet, that features adrenaline-fueled gameplay, and packed with brand new technology, this game is a big crowd-pleaser. With more MISSION: IMPOSSIBLE films planned this franchise is, without doubt, a must-have for operators in 2020." Says Paul Williams, CEO at Sega.
The head-turning cabinet is designed to look like the IMF (Impossible Mission Force) safehouse, the interiors are full of details that convey the feel of the top-secret high-tech hideout. Bright LED lighting throughout the interior and exterior immerse the player in the hi-tech feel of the game. Nine-game stages are brought to life on two back to back 55" HD screens. Four powerful bass shakers embedded in the floor in conjunction with surround sound and subwoofers lets players experience all the explosive action.
The brand-new dual pistol controllers are the next stage in-game controller technology. This new hardware synergies perfectly with game software. Players can use a single trigger to fire a high accuracy shot or hold down both triggers for dual-wield burst damage to take down many enemies quickly. "Your mission, should you choose to accept it, is to visit SEGA booth 1506 & 1606 at IAAPA! You will not want to miss this game of the year!" says Vince Moreno, US Sales Manager at Sega.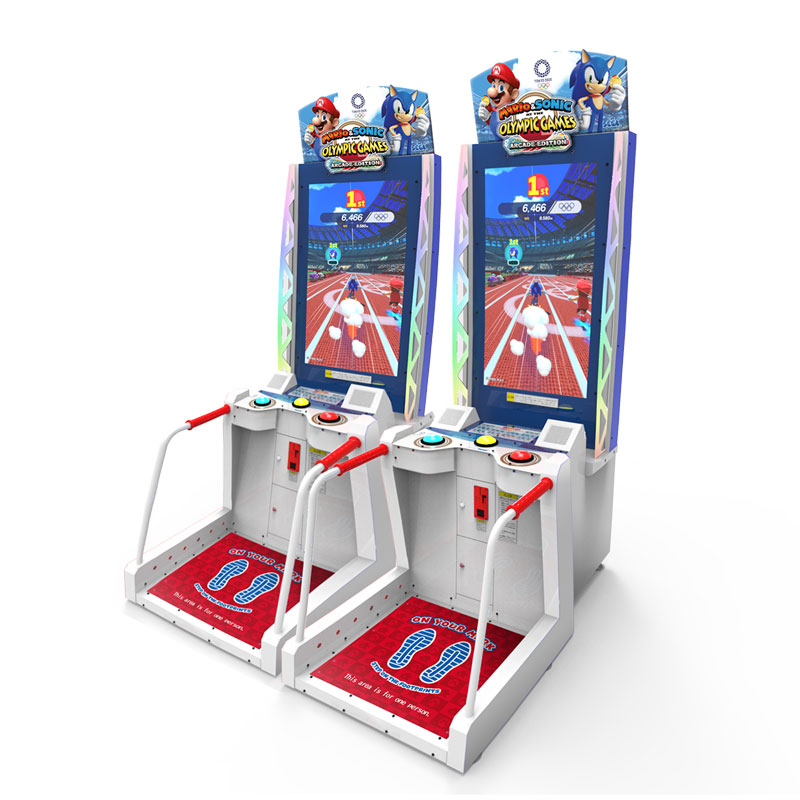 Get competitive on Sega's booth with Mario & Sonic at the Olympic Games Tokyo 2020 Arcade Edition. The only official licenced Olympic arcade game in the world from Sega and Nintendo. Visitors can participate in twelve events, including Gymnastics, Rugby, discus throw, triple jump, 100m, sport climbing, surfing, 100m freestyle as well as four retro events. Choose from a legendary cast of twelve characters including Mario, Sonic, Luigi, Amy, Tails, Knuckles, Dr. Eggman, Shadow, Yoshi, Wario, Bowser, and Peach.
Players can choose 'athletics' or 'easy' mode. In athletics mode, players must beat the target score to move on to the next event. While Easy mode makes the game fun for all players. "Mario & Sonic at the Olympic Games Tokyo 2020 Arcade Edition will be available as standalone cabinet and as a conversion kit to upgrade your Rio 2016 cabinets. At IAAPA we will be exhibiting the conversion. We highly recommend you experience this game and see how the conversion kit could breathe fresh new life in your existing cabinets and deliver value for years to come." Says Justin Burke, General Manager at Sega.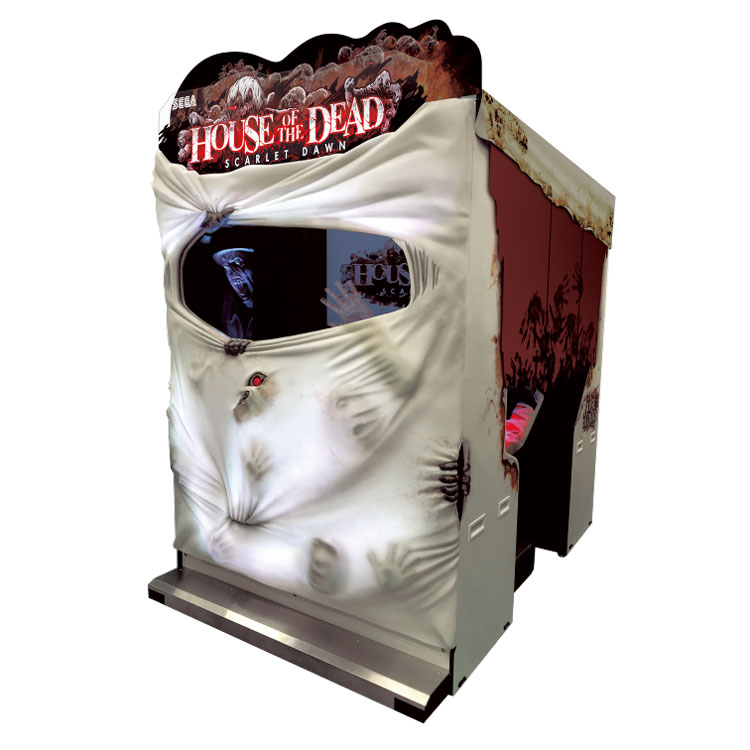 Halloween may be over, but don't be sad as House of the Dead Scarlet Dawn's horror attraction gameplay continues to attract huge crowds all year round at locations worldwide. Look out for the zombie Horror-themed cabinet with unique 3D moulding that gives a sense of zombies trying to escape the cabinet. This special edition game delivers an unparalleled horror action experience that looks and feels real. Powerful 'Unreal Engine 4' game graphics technology brings the game to life in incredible detail. While dedicated hardware and the huge 55" 1080p Full HD screen at 60 frames per second, produces a vivid and epic visual experience.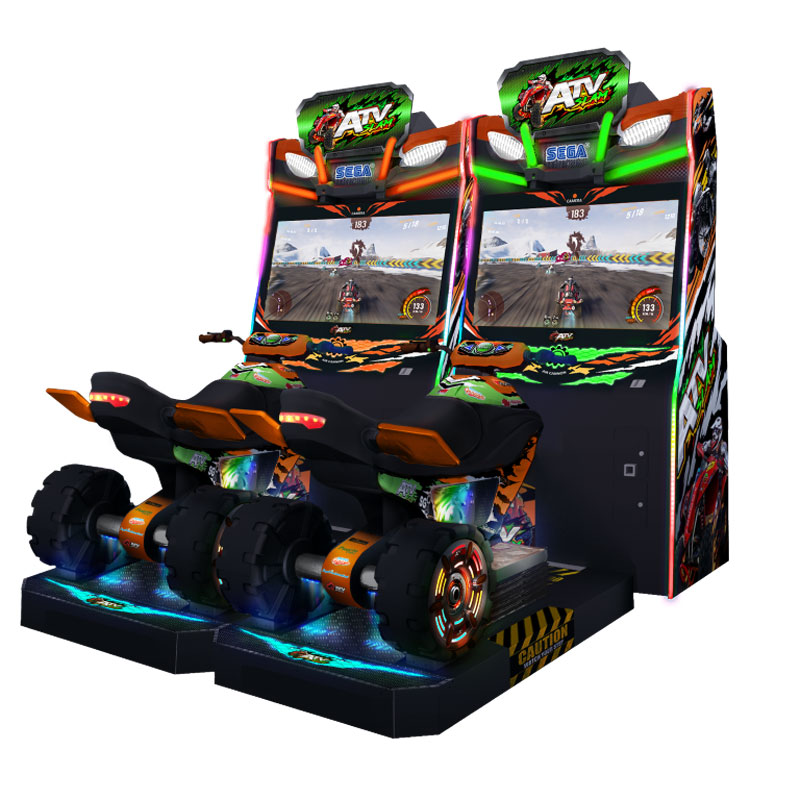 ATV Slam is truly a spectacular quad bike racing game! The sensational cabinet with life-size quadbike with huge back wheels, chrome engine compartment, and scintillating LED lighting effects stands out in the location. Packed with cutting edge "Unreal Engine 4" graphics technology, custom developed motion platform and air cannon for wind effects, players will experience the most realistic ATV racing ever. Loved by casual and core players this 4-player racing game is receiving glowing reviews from players and operators worldwide making it the must-have game at every location.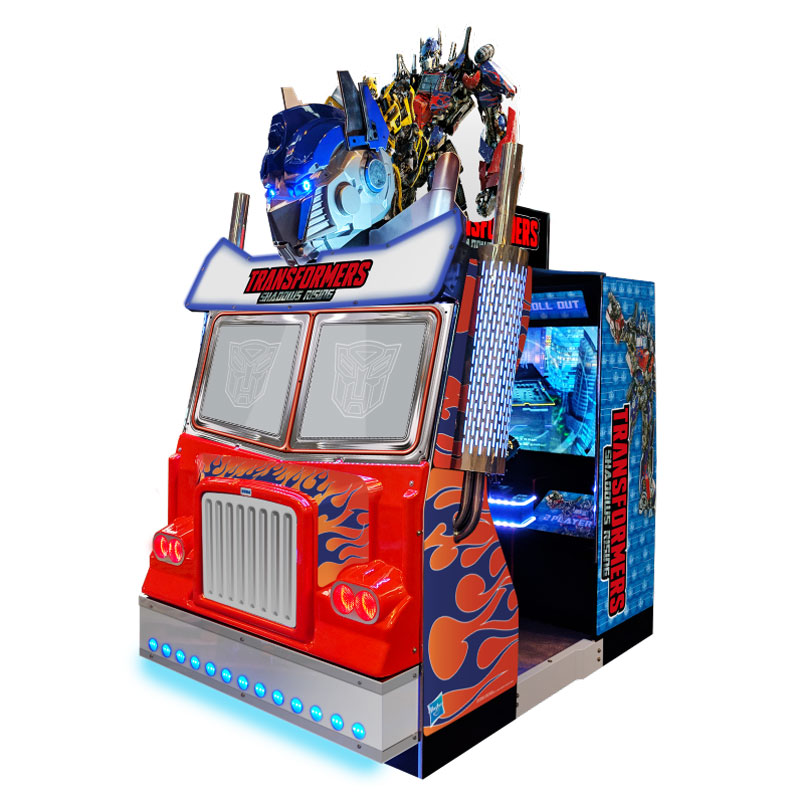 Another high earning licenced game not to be missed is TRANSFORMERS Shadows Rising an action-packed, high energy new video game from Sega and Hasbro. With global brand equity over 4 billion dollars, TRANSFORMERS is a blockbuster franchise that attracts a huge family audience. In this game players team up with movie stars, Optimus Prime, Bumblebee and Sideswipe, players must battle their way across the world to stop evil Megatron's plan. The sensational truck shaped cabinet features gorgeous chrome exhausts, eye-catching the lifelike Optimus Prime head marquee and multi-coloured LED lighting effects that make this game hard to miss from any angle.
Visitor can also experience arcade favourite racing game, Daytona Championship USA. The 42" racing cabinet is wrapped in racing sponsored graphics and features the iconic Hornet car-themed marquee. Experience insanely fast action, arcade-perfect handling, six tracks and various game modes brings fun and excitement for casual and core players. Also, on Sega's booth will be, Storm Racer in deluxe motion cabinet.
Don't miss that chance to experience these leading video games and a whole lot more at IAAPA. Sega's booths 1506 and 1606, will be the place to be at the Orange County Convention Centre from 19th – 22nd November.
Stay tuned for a second edition that will reveal Sega's redemption and prize line up at IAAPA. For further information contact Sega on +1 847-364-9787, +44 (0)208 391 8090, sales@segaarcade.com, or contact your Local Authorized Sega Distributor.
MISSION: IMPOSSIBLE ARCADE - TM & © 2019 Paramount Pictures. All Rights Reserved.
MARIO & SONIC AT THE OLYMPIC GAMES TOKYO 2020 ARCADE EDITION - TM IOC/TOKYO2020/USOC 36USC220506. Copyright © 2019 International Olympic Committee ("IOC"). All rights reserved. SUPER MARIO characters © NINTENDO. SONIC THE HEDGEHOG characters ©SEGA.
TRANSFORMERS SHADOWS RISING - ®2017 Hasbro. All Rights Reserved. ®2017 Paramount Pictures Corporation. All Rights Reserved. ®2017 Sega. All Rights Reserved.
DAYTONA CHAMPIONSHIP USA - DAYTONA® is a registered trademark of the International Speedway, Inc. and licensed to International Speedway Corporation.