21 July 2022
Occasionally, an exciting new product enters the market that somehow has that 'X-factor' to reenergise players. A product that builds upon the success of prior games and delivers entertainment in a stunning new presentation that simply 'capto-vates' the modern player. We are of course talking about Sega Amusements Capto Crane.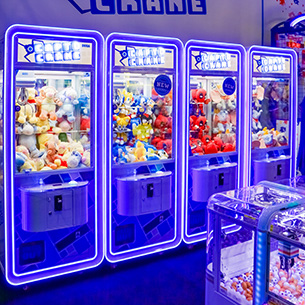 Capto Crane is an absolute stunner! Its slick stylish design features two LED lit edges that contours the front exterior, creating a distinctive look that demands players attention. The 3D moulded header lettering adds to the contemporary look. The bright interior lighting and mirrored back accentuates the prizes and encourages players to commit to play Capto Crane.
Operators are claiming Capto Crane is reliable, easy to operate, and the adjustable controls give them flexibility with prizes. Furthermore, they say the small footprint gives them versatility to bank multiple units to create an elegant prize feature zone.
Isn't it time you modernise your crane offering with Capto Crane?
To order now contact SEGA Amusements International on +44 (0)208 391 8090 / +1 847-364-9787; sales@segaarcade.com.