11 April 2023
Dodgeball! The classic school sports game is brought to the arcades! This interactive skill-based redemption game sees players aim at random pop out targets and stationary holes to score points which translates to tickets. The quicker the target is hit; the more points are awarded. This quick-fire hit is one not to be missed!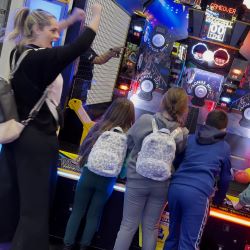 The game features a training mode for single players, a competitive mode for multiplayer, a fully lit arena jumbotron and 21 targets to hit. It's gameplay, which is fun and intuitive, makes this ball toss redemption game fun for everyone. Its available in either a deluxe or a standard edition. The deluxe features a fully lit, eye-catching cabinet that creates a more immersive experience for the player and for the operator, a statement piece for the arcade. Whereas the standard has a smaller footprint but is still a feature piece for any arcade.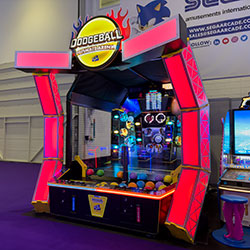 The natural draw of the game makes it an attraction piece that players recognise from all over the arcade. Players spectate other players trying to achieve their best score and in turn makes them want to play it next and beat it. Dodgeball arcade is a game that is sure to have people talking about and playing time and time again! This is due to the way it truly captures the classic childhood sports game that can be played by all ages. For children it is another way to enjoy a favourite game at school and for adults it's a game that can bring back memories of that time. Due to its skill-based gameplay no two games are the same and its all to play for!
So, what are you waiting for? Don't get caught out and bring the Dodgeball experience to your arcade!