12 November 2019
SEGA ANNOUNCES THE LAUNCH OF MISSION: IMPOSSIBLE ARCADE AT IAAPA!
SEGA is renowned for manufacturing highly profitable arcade games such as House of The Dead, Daytona, Lets Go Island and Transformers. Now with MISSION: IMPOSSIBLE ARCADE, based on the iconic Paramount Pictures franchise, SEGA brings one of the most influential, action-packed spy franchises to arcades and FEC's worldwide. Paul Williams, CEO at SEGA says "We are thrilled to bring this multibillion-dollar blockbuster film franchise to our market. The incredible excitement for current films makes MISSION: IMPOSSIBLE one of the hottest licences for video games. We have given this game the all-star treatment, starting with a revolutionary new cabinet and packing in thrilling gameplay that instantly transports players into the Mission Impossible world and is sure to get them wanting more. With more MISSION: IMPOSSIBLE films planned, this franchise is, without doubt, a must-have for operators in 2020."
MISSION: IMPOSSIBLE ARCADE Cabinet image. Please note image for illustration purposes only, the final product may be different.
Visitors to SEGA's booth 1506 will be able to experience the immersive spy world when they enter the 4 player Super Deluxe Attraction cabinet. Designed to look like the IMF (Impossible Mission Force) safehouse, the interiors are full of details that convey the feel of the top-secret high-tech hideout. Edge lighting on the control area and on subwoofers, spot player lighting and LED floor lighting strips not only floods more light in the cabinet but also immerse the player in the hi-tech feel of the game. All the fast-paced action takes place on two huge 55" HD screens. Video camera feed shows the leading team player's face in-game, adding a touch of competitive spirit. Four powerful bass shakers embedded in the floor in conjunction with surround sound and subwoofers lets players experience all the explosive action.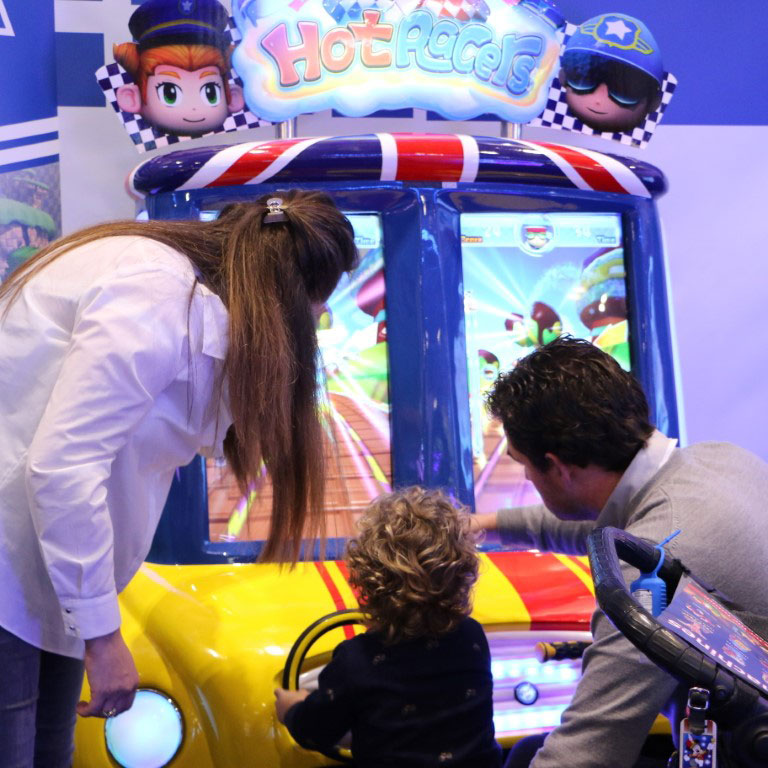 "The MISSION: IMPOSSIBLE films are some of the best spy movies ever made. The adrenaline-fueled action and twists make MISSION: IMPOSSIBLE a cultural phenomenon. We bring all this energy and excitement to the game. Every detail from cabinet to game software has been designed to immerse the player in the high-tech spy world of MISSION: IMPOSSIBLE." Says Justin Burke, General Manager at SEGA.
The awe-inspiring attraction cabinet features the iconic "fuse" from the films. The bright fuse-like animation light around the edge of the cabinet moves gradually; giving this cabinet a distinctive look that engages player attention from across the room. A smart proximity sensor detects players movement and initiates a special message on the massive 65" attract screen inviting players to join the covert task force. Multi-sided artwork allows operators to feature the game as attraction centrepiece. Williams added, "MISSION: IMPOSSIBLE ARCADE ushers a brand-new era in cabinet design for the industry. Our R&D team is leading the way by bringing fresh new ideas and engineering to achieve this breath-taking cabinet design."
The brand-new dual pistol controllers are the next stage in-game controller technology. Using cutting edge accelerometer technology increases controller reliability by reducing moving parts. The new controller allows a greater range of motion, smoother movement, great accuracy and its ergonomic design, makes gameplay very comfortable. Feature lighting on the controller entices players and encourages them to keep playing. "This new hardware synergizes perfectly with game software allowing us to create fun new elements to the way players eliminates enemies. Using a single trigger fires a high accuracy shot while holding down both triggers allows for dual wield burst damage," says Shinichi Ogasawara, R&D Game Producer at SEGA.
MISSION: IMPOSSIBLE ARCADE gameplay is easy to grasp, fun and full of thrilling action. Players take on the role as an IMF trainee and must complete missions to sabotage enemy plans that aim to weaponize humanoid robots. Players will use advance spy gadgets and weapons to complete their missions. Playing as a single or two-person team players must complete missions before the rival team does. This adds a fun and competitive edge to the game as players will be competing versus real opponents in linked games or versus AI in un-linked games.
The gameplay sees players complete 9 stages across 3 action-packed missions. Players will have to stealthily descend great heights, hack systems, eliminate opponents, track enemy targets, blast down doors, shoot and chase down enemies. MISSION: IMPOSSIBLE ARCADE gameplay software is truly packed with explosive action, excitement, suspense and humour from start to end.
Vince Moreno, US Sales Manager at SEGA, concluded with "Your mission, should you choose to accept it, is to visit SEGA booth 1506 at IAAPA! You will not want to miss it. We will have our entire sales team and key R&D personnel to discuss this and other products at the show. We look forward to seeing you all at IAAPA from 18th to 21st November at the Orange County Convention Centre."
For more information or pre-order contact SEGA on +1 847-364-9787, +44 (0)208 391 8090; sales@segaarcade.com, or contact your Local Authorized SEGA Distributor.

TM & © 2019 Paramount Pictures. All Rights Reserved.