02 November 2022
At Sega Amusements International, we are always excited about launching new games, and this year at the IAAPA show, we will be unveiling three new video games. As leaders in arcade game development, we pride ourselves on bringing top-performing fun entertainment games that will boost your business. So, be sure to head down to our booth 1010.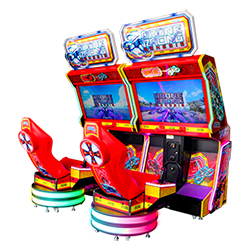 First on the "must experience" list is Drone Racing Genesis - an exciting and brand-new entertainment concept that captures the exhilarating spirit of drone racing and brings it to indoor locations for the very first time. The thrilling gameplay sees players take to the skies and race to the finish line while completing checkpoints and collecting 'battery charge' power-ups to go hypersonic. With four visually stunning race locations and five slick drones, players keep coming back to experience Drone Racing Genesis. The cabinet features a unique reclined seat that creates the illusion of being in a futuristic drone cockpit and instantly immerses players in the nail-biting racing action. Bright colour-changing header, lit cabinet edges and under-seat lighting feature attracts players' attention at any location.
Click here to watch the Drone Racing trailer.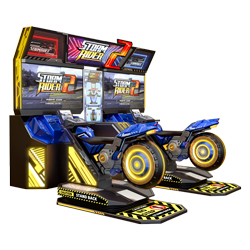 If you are a fan of bike racing, you will love Storm Rider 2 the long-awaited follow-up to the hit motorbike racing game. This second instalment features a motion base that delivers an unprecedented, immersive racing experience. Combined with crisp graphics produced by the Unreal Engine and boost function, players will experience blazing-fast speeds. The impressive two-player cabinet features unique touchscreen lobby controls, spectacular futuristic bikes and a fully lit billboard that will turn heads at your arcade or FEC.
Click here to watch the Storm Rider 2 trailer.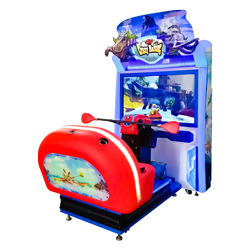 Ignite your sense of adventure on our booth with Crazy Rafting, also a motion-based two-player racing game, but this time you will be going white water rafting through six crazy worlds, from prehistoric to alien. Players at your location will be intrigued to experience the fun and intuitive paddle controllers; the quicker they paddle, the faster they go. Crazy Rafting stands out at any location thanks to its unique raft seat, paddle controllers, vivid colour-changing lighting and artwork.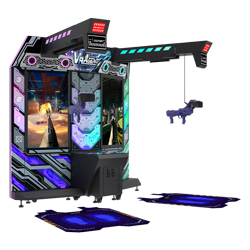 If you are looking to invest in VR games, then VR Agent could be just the game for you. A true attendant-free, coin-operated VR game, VR Agent brings the best of arcade shooting in the highly immersive VR format. Featuring a "hybrid" controller that seamlessly combines the headset and gun controller in one unit, players intuitively place the controller next to their eyes and are instantly transported into the action-packed game. Furthermore, the auto-deployment system lowers the controller at the start and retracts it at the end, thus dramatically increasing throughput like never before. VR Agent gameplay is highly interactive and deeply immersive. Operators can also switch on family-friendly mode that turns the enemy into robots, making this a fun game for the whole family.
Click here to watch the VR Agent Trailer.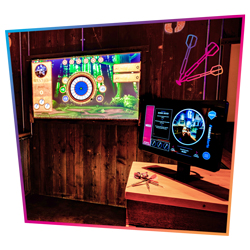 Experience Augmented Reality Darts for the very first time at IAAPA. Brought to you by leaders in competitive social gaming 501 Entertainment, this ground-breaking new experience opens classic darts to a new and much wider audience than ever before. The ultra-bright laser projector superimposes beautiful gameplay animations and scores over the dart board as well as the surrounding area, creating a fun and cool immersive experience.
Click here to watch Augmented Reality Darts in action.
Our booth 1010 will also feature brand new redemption games, prize games and our other hit video games such as action-packed Mission Impossible DLX, the ultimate watercraft racing game jet blaster and offroad racing with ATV Slam. IAAPA takes place from 15th to 18th November at the Orange County Convention Centre, Orlando, USA. We look forward to seeing you there!
For further information contact SEGA Amusements International on +44 (0)208 391 8090 / +1 847-364-9787; sales@segaarcade.com