02 December 2022
Sega Amusements International experienced one of the most successful IAAPA show for many years.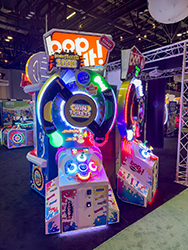 "We were pleased to see new and existing customers, partners, and friends visit us at the show from all over the world. It was encouraging to see visitor numbers were significantly up compared to last year and back to pre-pandemic levels. Operators were optimistic and looking to invest in new equipment and expand their estate to capitalise on the strong guest demand," commented Justin Burke, Sales Director at Sega Amusements.
We recognise that what makes a great show for visitors is a great line-up of new products in every major game category, and for this year's show, we set out to do just that! Exhibiting eighteen of our top-performing titles, which included ten brand-new titles. Operators at the show praised the quality of products and acknowledged that Bop It! Arcade, Drone Racing Genesis, and Augmented Reality Darts were top of their must-have list.
"Making its world premiere, Bop It! Arcade was the star of the show! Visitors were mesmerised by the visually appealing cabinet. They instantly recognised the brand and felt compelled to play. The game hit a chord with every operator that experienced it. Based on the strong demand at the show, we have ramped up production of Bop It! Arcade, with first units, rolling off the production line early February," added USA based Vince Moreno, Sales Manager at Sega Amusements.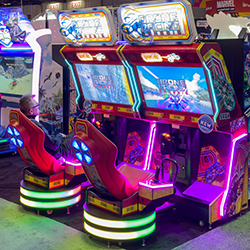 Visitors felt like they were up in the skies as they experienced the intense racing action in Drone Racing Genesis. The gameplay is easy to grasp, and the intuitive joystick controller instantly gets players into the racing mood. We were pleased by the positive feedback we received for Drone Racing Genesis' at its world premiere. Most operators commented there were glad to see a new unique racing game that let players race in the air. Drone Racing Genesis is in production right now, and containers of the game are imminently shipping around the world.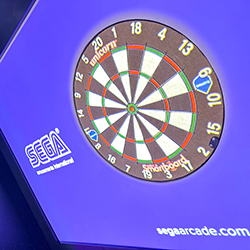 Augmented Reality Darts got operators imagining new ways to expand their entertainment offerings. They could see how this ground-breaking new social competitive gaming concept brings the fun of darts game to their guests. The ultra-bright laser projector superimposes stunning gameplay animations and scores over the dart board and surrounding area creating a fun and cool immersive host-free experience. "Augmented Reality Darts is also perfect for the modern bar environment and encourages guests to buy more food and beverage while being entertained." Says Marty Smith, Sales Manager at Sega Amusements.
The motion-based video racing game Storm Rider 2, the incredibly immersive VR Agent and four player redemption game Jumanji were some of the other most popular games at the show.
Thank you to all our guests for visiting us at IAAPA and to the IAAPA association for organising the show.