28 October 2021
We are pulling out all the stops to make this IAAPA an unmissable event for operators! Our booth 1315 will focus on our latest top-performing games designed to attract and entertain visitors and ultimately boost your business performance.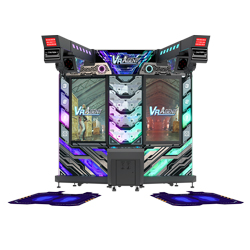 We are proud to present VR Agent, a brand new attendant free, 2-player, coin-operated VR game that brings the best of arcade shooting in this highly immersive VR format. The VR aiming controller is a true innovation - as the VR headset is fused to the gun controller – thus making the VR Headset more resistant to wear and tear and ushering an evolution in VR gaming and making it viable for arcades or FEC's. The controller lowers instantly, allowing the player to get into the action quickly and lifted at the end, hence significantly increasing throughput and efficiency.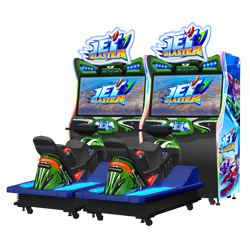 Jet Blaster is our ultimate watercraft game. Custom-developed, air cylinder-based motion platform lets players experience the most realistic watercraft racing action. High-end graphics, wind effects, heart-pounding soundtracks and 'boost' take you to blazing-fast speeds leaving your adrenaline pumping throughout the game. Jet Blaster is ideal for the whole family. The cabinet features a life-size jet bike that is lit from top to bottom. Jet Blaster will get heads turning at your location.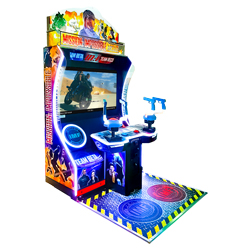 Last IAAPA, we launched Mission Impossible Arcade based on the Box Office smash hit films and TV series in a spectacular 4 Player attraction cabinet that was prised as the pinnacle of cabinet design and entertainment. We are excited to launch Mission Impossible Arcade Deluxe this year, a 2-player cabinet with an innovative new floor that features base-shakers to deliver an adrenaline-fueled gameplay experience. Combined with the huge 55" screen, brand-new dual pistol controllers and surround sound, players will be immersed in the explosive spy action.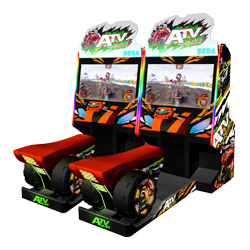 Our hit motion-based racing game ATV Slam is now available in a standard non-motion cabinet. The new design features a smaller footprint but can still link up to 4 players for a true off road racing experience and maintains the same thrilling gameplay as the Deluxe cabinet. Using the thumb throttle, players must race to the chequered flag while avoiding obstacles, perform stunts and use the boost to get a podium finish. The ATV quadbike seat can accommodate a parent and child. Stylish liveries and lighting effects from top to bottom demands players attention at any arcade.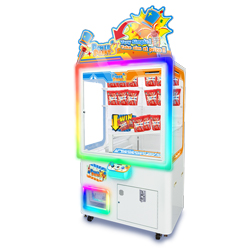 Power Points is a brand-new skill-based prize redemption game. The fun and intuitive game sees players move the rod to pop upwards and move prizes into the win area using the simple joystick and button controls. The contemporary cabinet design features colour-changing lighting that surrounds the prize window, prize outdoor and control panel, which really draws the players' attention to the game. Power Points is also incredibly versatile, allowing operators to place all types of prizes on the adjustable playfield shelf. Operators can then select the shelf angle and rod top size to suit their chosen prize.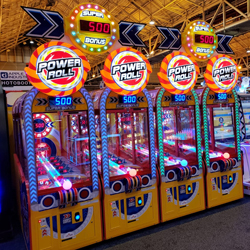 In addition to these games, we will also be exhibiting other hit games, such as the chart-topping redemption game Power Roll. Ball toss interactive game Pixel Chase and the incredibly popular single-player prize merchandiser Capto Crane. As well as video racing with Daytona Championship USA and to get kids and the family active, check out Mario and Sonic at the Olympic Games Tokyo Arcade Edition.
If you are an amusement games operator, you cannot afford to miss SEGA's booth 1315 at IAAPA. The show takes place from 16th to 19th November at the Orange County Convention Centre, Orlando, in the Sunshine State, Florida, USA.
We look forward to seeing you in person at the show.
Stay tuned for another major announcement from Sega for a huge Hollywood blockbuster IP based redemption game that is set to bring renewed energy and excitement to the video redemption category.

For more information or to pre-order contact SEGA on +44 (0)208 391 8090 / +1 847-364-9787; sales@segaarcade.com, or contact your Local Authorized SEGA Distributor.