05 January 2023
Sega Amusements International is thrilled to introduce 12 new titles on stand 270 at EAG International show next week, from 10th to 12th January at London ExCel. As leaders in arcade game development, we aim to bring you top performing entertainment products that will boost your business in 2023.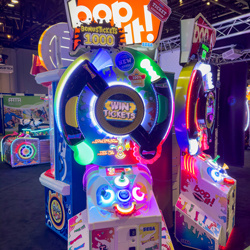 Taking centre stage at the show will be the incredibly popular and iconic family fun game, BOP IT! The game was a star at the IAAPA show in November and is set to impress visitors at EAG. BOP IT! Arcade, is a brand-new redemption game where players must follow the voice and visual prompts to perform actions in quick succession to win tickets. The game gets progressively more challenging, thus testing players' speed and hand-eye coordination, and rewards them for the biggest scores!
Also making its European debut is Drone Racing Genesis, an exciting new entertainment concept that captures the exhilarating spirit of drone racing and brings it to indoor locations for the very first time. With its unique reclined cabinet seat, the game draws players to join the action.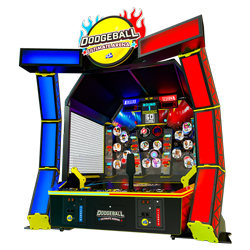 You don't want to miss Dodgeball Ultimate Arena from leading redemption manufacturer ICE. In this new highly interactive ball toss redemption game players aim dodgeballs at random pop-out targets and into stationary holes to score points and win tickets. The game is designed with the family and group play in mind and hence is wide enough for four players.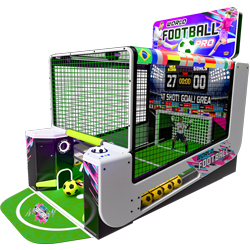 Also new from ICE is World Football Pro and Shipwreck. World Football Pro is a penalty shootout game that's all about skill and timing to get as many balls as possible past the moving keeper and into the goal before time runs out - higher the score, greater the ticket winnings.
Other new redemption titles will include Ultimate Shot, Polar Slide and Ice Walker. As well as big, licenced products with massive family appeal, such as Monopoly Roll & Go, Jumanji, Men In Black and Mission: Impossible Arcade.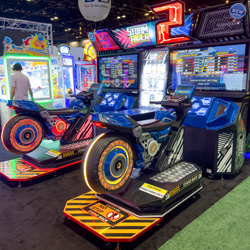 Fans of bike racing will love Storm Rider 2, featuring a motion-base that delivers an unprecedented, immersive racing experience. Combined with crisp graphics produced by the Unreal Engine and boost function, players will experience blazing fast speeds. The impressive two player cabinet features unique touchscreen lobby controls, spectacular futuristic bikes and a fully lit billboard that will turn heads at your arcade or FEC.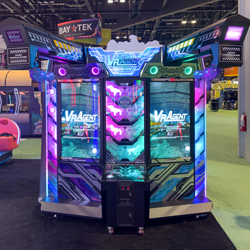 You can finally invest in VR with confidence thanks to VR Agent 2 player. A true attendant-free, coin-operated VR game, VR Agent brings the best of arcade shooting in the highly immersive VR format that your players will love.
Looking for innovative entertainment to draw new visitors to your locations? then be sure to experience Augmented Reality Darts. Brought to you by leaders in competitive social gaming 501 Entertainment, this ground-breaking new experience opens classic darts to a new and much wider audience than ever before. The ultra-bright laser projector superimposes beautiful gameplay animations and scores over the dart board as well as surrounding area, creating a fun and cool immersive experience.
Sega Total Solutions and Sega Prize International will also be on stand promoting products and services that will support your business growth with spares, technical support, plush and prizes. We all hope to see you at the show!
Want to visit the show? Click Here to Register for FREE!
For further information contact SEGA Amusements International on +44 (0)208 391 8090; sales@segaarcade.com.