13 December 2021
If you are an amusement operator, you cannot afford to miss Sega Amusements stand 270 at the EAG show. The must-attend industry event will be kicking off the new year and is set to attract international and national operators, experts, and manufacturers from across the entertainment, attractions, and gaming industry. The show will be from 1st to 3rd March 2022 at ExCel London, UK.
In true SEGA fashion, we will be exhibiting an epic line-up of top-performing games in every major category. In this edition, discover the video games operators can experience on our stand.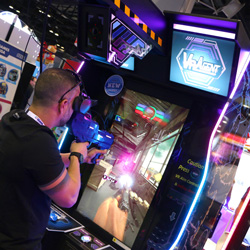 Get ready to experience VR Agent, a brand-new attendant-free, 2-player, coin-operated Virtual Reality game that brings the best arcade shooting in the highly immersive VR format. The truly innovative VR aiming controller sees the headset fused to the gun controller – thus making the VR Headset more resistant to wear and tear and ushering an evolution in VR gaming and making it viable for arcades or FEC's. The controller lowers instantly, allowing the player to get into the action quickly and lifted at the end, significantly increasing throughput and efficiency.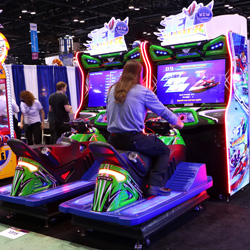 Hop on the life-size jet bike and experience the ultimate watercraft game with Jet Blaster. Featuring a custom-developed, air-cylinder-based motion platform, you will experience the most realistic watercraft racing action. High-end graphics, wind effects, heart-pounding soundtracks, and 'boost' will take you to blazing-fast speeds leaving your adrenaline pumping throughout the game. Jet Blaster is ideal for the whole family, and its stunning cabinet gets heads turning at any location.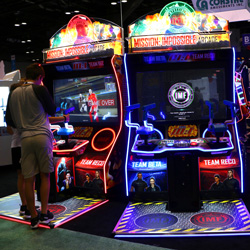 Want to let your guests experience thrilling entertainment at your location? Well, then step up to Mission Impossible Arcade Deluxe at EAG and see how this game delivers just that. Based on the Box Office smash hit films and TV series, this game will take you on an epic journey to save the world from enemies that aim to weaponize humanoid robots. You will have the latest spy gadgets and weapons at your disposal to help you complete your mission, but remember, time is not on your side. The 2-player Deluxe cabinet's innovative new floor features base-shakers to deliver an adrenaline-fueled gameplay experience. Combined with the huge 55" screen, brand-new dual pistol controllers, and surround sound, you will be immersed in the explosive spy action right from the start.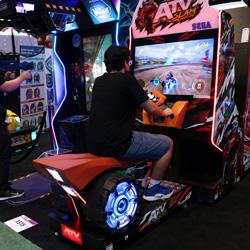 Our hit motion-based racing game ATV Slam is now available in a standard non-motion cabinet. The new design features a smaller footprint but can still link up to 4 players for a true off-road racing experience and maintains the same thrilling gameplay as the Deluxe cabinet. Using the thumb throttle, players must race to the chequered flag while avoiding obstacles, perform stunts and use the boost to get a podium finish. The ATV quadbike seat can accommodate a parent and child. Stylish liveries and lighting effects from top to bottom demand the player's attention at any arcade.
At EAG, our stand 270 will be 'the place' to experience the latest innovations that keep families entertained and offer you an excellent return on investment.
Stay tuned for our redemption edition, where our games are set to bring renewed energy and excitement to this category.
We look forward to seeing you in person at EAG.

For more information or to pre-order, contact SEGA on +44 (0)208 391 8090; sales@segaarcade.com, or contact your Local Authorized SEGA Distributor.